The 10 Best GMAT Stories of 2011 – Number 1
by
Beat The GMAT, Dec 31, 2011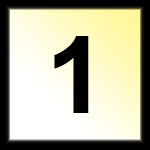 This article is part of a 10-part series where we will be highlighting the most popular GMAT stories of 2011 from the Beat The GMAT community, in countdown fashion.
Our most popular story of the year has to be the one written by eternal_optimist. Such a smashing username eventually paid off, since eternal_optimist eventually scored a 740 after 3 years of struggling with the test and an initial score in the mid-500s.
His post, 3 yrs,4 attempts-Finally 740: The story of my metamorphosis really made an impact on everyone who read it this year. Our favorite excerpts:
I was sick of mourning over my debacles, and I didnt want to meet or hang out with anybody for that would mean uneasy conversation. Bored and clueless, I just happened to come across a movie Coach Carter on my computer. Not that I was excited to watch it but I was just looking for an escape. Though it was an another of those Underdog turns hero ilk of movies, but there was something about it which I could really assosciate with. As I watched the movie, something inside me was churning.
...Dont EVER give up: Sometimes itll get difficult and embarrassing to face people. Your self esteem may hit the nadir. But remember that you CAN and you WILL make it.
Congratulations, eternal_optimist! We wish you all the best! For all of you still struggling with the test, don't forget to check out the full post here: 3 yrs,4 attempts-Finally 740: The story of my metamorphosis