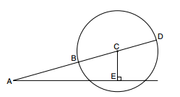 In the circle with center C above, what is the area of right triangle ACE?
1) AE equals 16 inches.
2) BD equals 12 inches.
The OA is
E
.
Please, can any expert explain this DS question for me? I have many difficulties to understand why that is the correct answer. Thanks.