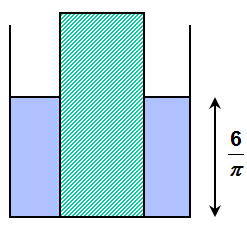 A solid cylinder with radius 3 inches sits in a cylindrical container containing water. The cylindrical container has radius 4 inches, and the water is 6/π inches deep. If the solid cylinder is removed from the container, what will be the depth of the water (in inches)?
A) 2/(3pi)
B) 9/(4pi)
C) 7/(3pi)
D) 21/(8pi)
E) 3/pi
Source:
GMAT Prep Now
Difficulty level: 700+
Answer:
D
EDIT: I changed the answer choices after I was alerted to a mistake I made.