Do This, Not That, if You're Reapplying to Business School
by
Stacy Blackman Consulting, Aug 19, 2019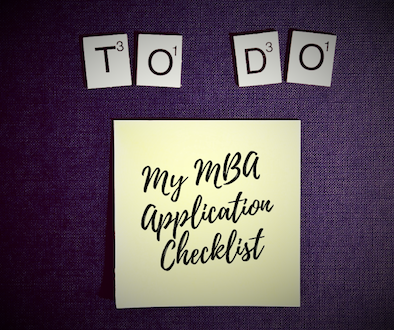 Many business schools, even the most elite and well-ranked ones, welcome re-applicants. Reapplying showsyou are very serious about your interest in the program, as this Tuck School blog post affirms. The best way to approach the process when you're reapplying to business school is to highlight how you have improved your candidacy.
Take a closer look at the following aspects of the MBA application package to determine where you should focus your energies to improve your odds next time around.
Decide How Many and Which Programs to Target
If you received multiple dings in your first application attempt, add new programs next time you're reapplying to business school. You might have applied to ones that didn't match up well with your profile. Make sure your focus is on fit over brand strength, and match your preferred learning style to the schools style of instruction.
Do:Apply to at least four schools to maximize your chances of success. These programs should represent varying levels of competitiveness.
Dont:Apply to too many schools usuallysix or morebelieving that hedging your bets in this way will guarantee admission somewhere. While that strategy sounds logical, in reality your efforts will become diluted with each successive application. There just wont be enough passion there to sway the admissions committee.
Do:Include your dream school in the mix. It may be a real reach, but go for it anyway and youll have no regrets later.
Tweak Letters of Recommendation
Unsuccessful applicants sometimes dont realize that the rejection occurred because their letters of recommendationcame across as weak endorsements at best.
Do: Make sure whomever you ask is willing to write a very compelling recommendation for you. Since its not a given that youll see the letter once its written, its perfectly OK to come right out and explicitly ask for what you need.
Dont:Choose a recommender for superficial reasons. Ive seen too many applicants dinged for committing this mistake. Asking the president of acompany, an alum of your dream school or any other bigwig wont do you any good if they cannot speak intimately and enthusiastically about your many virtues
Do: Remind your recommenders to address specific examples of your accomplishments and leadership abilities. Also, they should discuss your work ethic or team-building skills. Writing a strong endorsement requires some effort, so make it easy for your recommender by providing a list of the accomplishments you want to highlight.
Pump Up Your GMAT
Business schools always stress that test scores are just one metric of admissions decisions. But they areimportant, because the admissionscommittee has to make sure the people they accept can handle the quantitative work.
If your initial scores dont come close to those of an average student's at the schools you're applying to, you need to make significant gains on your GMAT score in subsequent sittingsor have other, extremely impressive qualifications when reapplying to business school.
Do:Allow time to take the exam again. Nerves or lack of preparation might have torpedoed your first effort. The familiarity of taking it a second or even third time will often lead to a higher score.
Dont:Wait until the last minute to take your GMAT. Take care of it early in the year, before you have to juggle the other aspects of the application.
Do: Consider alternative preparation methods to see if they yield better results. If you studied on your own last year, see if a formal class or working with a GMAT tutor helps you improve your weak areas more efficiently.
Dont:Cancel a score when the option appears upon completing the test, even if youre pretty sure youve blown it. Schools will evaluate your highest score, so don't worry about a low score reflecting negatively on you.
That initial score provides valuable feedback about your testing strengths and weaknesses. You may alsofind out that your performance was not as bad as you imagined.
Rock Those Essays
Sometimes applicants get hung up on writing the "perfect" essay. In reality, they should focus on writing a compelling essay instead.Candidates must really do their homework about the schools they have targeted. By doing so, they can create compelling essays that convince the adcom how the program will help them reach their career goals. This also predicts how they would contribute to the school as students and eventual alumni.
Do:Use the additional essay to explain whats changed in your situation to make you a stronger candidate when reapplying to business school. Make sure to address both professional and personal advancements, but show that you are realistic and self-aware. Revealing your humanityin the form of quirks, weaknesses and flawscan often help the admissions committee to like you.
Dont:Recycle essays from the first time around, and dont use the same essay for multiple schools. At best, the byproduct of being all-inclusive is that you will sound generic. At worst, you might accidentally leave the wrong school name in the essay. Trust us, you'll get rejected out of hand for your lack of attention to detail.
Finally, take comfort in knowing many people in business school right now were dinged the first time they applied. The MBA admissions process requires resilience, so take some time to recover, reassess and dive back in.
***
If you are looking for guidance on your
MBA
application, Stacy Blackman Consulting can help withhourlyandcomprehensiveconsulting services.Contact usto learn more. Visit the website forStacy Blackman Reviews, and check out the companys e-publications for more in depth school-by-school guidance.