The Wharton School (University of Pennsylvania)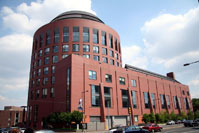 3730 Walnut Street
Philadelphia, PA 19104
-

people following this school
-

people applying to this school
Full-Time MBA Rankings
Bloomberg Businessweek: 6
News World Report: 3
Financial Times: 3
Part-Time MBA Rankings
News World Report:
Executive MBA Rankings
Financial Times:
Online MBA Rankings
Financial Times:
News World Report:
Full-Time MBA Employments
Median Base Salary: $125,000
Median Salary with Bonus: $181,634
% Employed After Graduation: 96.0
Application Essay Prompts
"First-time applicants and re-applicants are required to complete both essays. The Admissions Committee wants to get to know you on both a professional and personal level. We encourage you to be introspective, candid and succinct. Most importantly, we suggest you be yourself. Essay 1: What do you hope to gain professionally from the Wharton MBA? (500 words) Essay 2: Describe an impactful experience or accomplishment that is not reflected elsewhere in your application. How will you use what you learned through that experience to contribute to the Wharton community? (500 words) Additional Question (required for all Reapplicants): Explain how you have reflected on the previous decision about your application, and discuss any updates to your candidacy (e.g., changes in your professional life, additional coursework, extracurricular/volunteer engagements). (250 words)* *First-time applicants may also use this section to address any extenuating circumstances. (250 words)"
Part-Time MBA Employments
Median Base Salary:
Warning: number_format() expects parameter 1 to be double, string given in /vol/www/www.beatthegmat.com/blog/source/wp-content/themes/btgv3/mbawatch/single-bschool-info-view.php on line 137
$
% Employed After Graduation:
Part-Time MBA Employments
Application Essay Prompts
Executive MBA Employments
Median Salary:
Warning: number_format() expects parameter 1 to be double, string given in /vol/www/www.beatthegmat.com/blog/source/wp-content/themes/btgv3/mbawatch/single-bschool-info-view.php on line 151
$
% Employed After Graduation:
Application Essay Prompts
Online MBA Employments
Median Salary:
Warning: number_format() expects parameter 1 to be double, string given in /vol/www/www.beatthegmat.com/blog/source/wp-content/themes/btgv3/mbawatch/single-bschool-info-view.php on line 165
$
% Employed After Graduation:
Application Essay Prompts
ARTICLES