MIT Sloan School of Management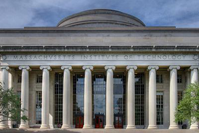 50 Memorial Drive
Cambridge, Massachusetts 02142
-

people following this school
-

people applying to this school
Full-Time MBA Rankings
Bloomberg Businessweek: 7
News World Report: 5
Financial Times: 9
Part-Time MBA Rankings
News World Report:
Executive MBA Rankings
Financial Times:
Online MBA Rankings
Financial Times:
News World Report:
Full-Time MBA Employments
Median Base Salary: $125,000
Median Salary with Bonus: $150,000
% Employed After Graduation: 93.0
Application Essay Prompts
"MIT Sloan seek students whose personal characteristics demonstrate that they will make the most of the incredible opportunities at MIT, both academic and non-academic. We are on a quest to find those whose presence will enhance the experience of other students. We seek thoughtful leaders with exceptional intellectual abilities and the drive and determination to put their stamp on the world. We welcome people who are independent, authentic, and fearlessly creative true doers. We want people who can redefine solutions to conventional problems, and strive to preempt unconventional dilemmas with cutting-edge ideas. We demand integrity and respect passion. Taking the above into consideration, please submit a cover letter seeking a place in the MIT Sloan MBA Program. Your letter should conform to a standard business correspondence, include one or more examples that illustrate why you meet the desired criteria above, and be addressed to Mr. Rod Garcia, Senior Director of Admissions (300 words or fewer, excluding address and salutation)."
Part-Time MBA Employments
Median Base Salary:
Warning: number_format() expects parameter 1 to be double, string given in /vol/www/www.beatthegmat.com/blog/source/wp-content/themes/btgv3/mbawatch/single-bschool-info-view.php on line 137
$
% Employed After Graduation:
Part-Time MBA Employments
Application Essay Prompts
Executive MBA Employments
Median Salary:
Warning: number_format() expects parameter 1 to be double, string given in /vol/www/www.beatthegmat.com/blog/source/wp-content/themes/btgv3/mbawatch/single-bschool-info-view.php on line 151
$
% Employed After Graduation:
Application Essay Prompts
Online MBA Employments
Median Salary:
Warning: number_format() expects parameter 1 to be double, string given in /vol/www/www.beatthegmat.com/blog/source/wp-content/themes/btgv3/mbawatch/single-bschool-info-view.php on line 165
$
% Employed After Graduation:
Application Essay Prompts