Darden School of Business (University of Virginia)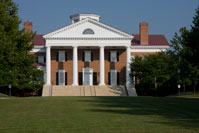 100 Darden Boulevard
Charlottesville, VA 22903
-

people following this school
-

people applying to this school
Full-Time MBA Rankings
Bloomberg Businessweek: 12
News World Report: 13
Financial Times: 32
Part-Time MBA Rankings
News World Report:
Executive MBA Rankings
Financial Times:
Online MBA Rankings
Financial Times:
News World Report:
Full-Time MBA Employments
Median Base Salary: $125,000
Median Salary with Bonus: $150,000
% Employed After Graduation: 90.0
Application Essay Prompts
"For the 2018 - 2019 application cycle, Darden has decided to forgo one long essay, and do multiple short essays. We want to get to know all of the various facets of your background and personality. "Tell us what you would want your learning team to know about you - personal, professional or both." (100 words) "Each year, Darden connects with over 80 countries. If you could choose any location in the world, where would you want to go with Darden? And why?" (50 words) "Darden strives to identify and cultivate leaders who follow their purpose. At this stage, how would you describe your evolving leadership style and please provide an example." (200 words) "Please provide an example of a situation in which you have made a meaningful impact." (200 words) "What is your short-term, post-MBA career goal and why?" (150 words)"
Part-Time MBA Employments
Median Base Salary:
Warning: number_format() expects parameter 1 to be double, string given in /vol/www/www.beatthegmat.com/blog/source/wp-content/themes/btgv3/mbawatch/single-bschool-info-view.php on line 137
$
% Employed After Graduation:
Part-Time MBA Employments
Application Essay Prompts
Executive MBA Employments
Median Salary:
Warning: number_format() expects parameter 1 to be double, string given in /vol/www/www.beatthegmat.com/blog/source/wp-content/themes/btgv3/mbawatch/single-bschool-info-view.php on line 151
$
% Employed After Graduation:
Application Essay Prompts
Online MBA Employments
Median Salary:
Warning: number_format() expects parameter 1 to be double, string given in /vol/www/www.beatthegmat.com/blog/source/wp-content/themes/btgv3/mbawatch/single-bschool-info-view.php on line 165
$
% Employed After Graduation:
Application Essay Prompts
ARTICLES