Wharton MBA GMAT Scores: What Score Do I Need?
by
Target Test Prep, Apr 13, 2022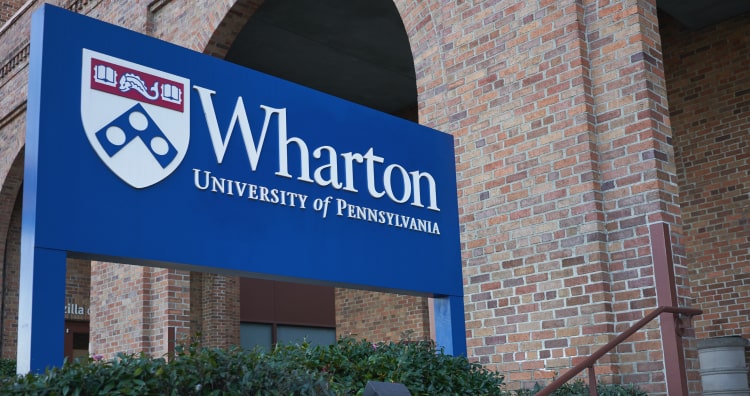 The Wharton School of Business at the University of Pennsylvania has one of the most well-known MBA programs in the world — and one of the most highly ranked. The M7 school was ranked #2 among full-time MBA programs on U.S. News' 2022 list of the Best Business Schools (Stanford took the #1 slot). In fact, Wharton has consistently landed in the top 5 of MBA rankings in recent years. So, it's no surprise that MBA admissions at Wharton is a very competitive process. Having an impressive GMAT score can be an important factor in making your application stand out among the pack.
In this article, we'll take a look at the average GMAT scores of MBA students at the University of Pennsylvania's Wharton School, as well as other key aspects of the Wharton MBA class profile, and discuss some criteria for determining what GMAT score you need to apply to Wharton.
The Wharton MBA Class Profile: Class of 2022
As I mentioned already, Wharton's incoming class in 2020 was its largest ever: out of 7,158 applicants, 916 enrolled in Wharton's MBA program as members of the class of 2022. Students of color made up 5% more of the class than in the previous year, 41% vs. 36%, but the proportion of women dropped 5%, from 46% to 41%.
The biggest shift in the demographic makeup of Wharton's incoming class was in international students — possibly because of the COVID-19 pandemic. The proportion of those students decreased from 34% and 30% incoming in 2018 and 2019, respectively, to just 19% incoming in 2020.
Despite those demographic changes, finance remained the top sector from which incoming students hailed, with 24% of the class of 2022 coming from consulting backgrounds and 12% coming from private equity/venture capital. The industry with the least representation in the class of 2022 was media/entertainment, at just 1%, followed closely by the energy sector, at 2%. Wharton's class of 2022 had an average of 5 years of work experience, though years in the professional world ranged from 0 to 14.
The class of 2022 also had an average GPA of 3.6, with undergraduate majors fairly evenly split among three categories: Humanities (38%), Business (34%), and STEM (28%). Interestingly, the number of MBA students entering with undergraduate degrees in Business jumped significantly from that of the previous 4 years, when that number held steady at 26-27%.
It's also interesting to note that the average GPA and work experience at Wharton was in keeping with the averages at other M7 schools. For instance, the Harvard MBA class of 2022 had an average GPA of 3.7 and an average of 4.7 years in the professional world, numbers very similar to Wharton's. So, if you're interested in applying to M7 schools in general, it's important to keep those stats in mind.
In general, it'll be important to keep the Wharton MBA class profile in mind when you're thinking about how to set your GMAT score goal for Wharton, but I'll talk about that more shortly. For now, let's take a look at what the Wharton GMAT score range and average GMAT score have been in recent years.
Wharton GMAT Scores: A 5-Year View
Although earning a 700+ score on the GMAT certainly isn't required, as we take a look at the Wharton average GMAT scores over the past 5 years, you'll notice that the average GMAT score has remained well above 700. Of course, an average is just that, so it's important to also consider the Wharton GMAT score ranges of accepted MBA students. So, let's take a look at the 5-year data for the GMAT average and score range. (Note that Wharton did not disclose a score range for the class of 2022.)
To read the complete article, please visit Target Test Prep's blog.