Executive Assessment vs. GMAT: What is the Difference?
by
Target Test Prep, Mar 30, 2022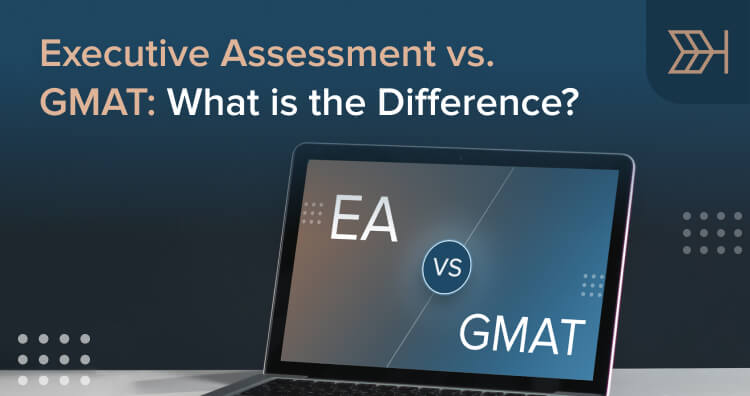 The Executive Assessment (EA) is a relatively new exam compared to the GMAT, but nowadays, many business schools accept both. So, why do some people take the Executive Assessment instead of the GMAT for entrance into MBA programs, and which exam is right for you?
In this article, I'll break down the key differences between the Executive Assessment and GMAT exams and give you some criteria for determining which test you need to take.
First, let's do a quick review of what the GMAT and the Executive Assessment are.
What is the GMAT?
The Graduate Management Admission Test (GMAT) is a computer-adaptive, standardized exam that for more than 60 years has been used as a measure to assess applicants to graduate-level business and management programs.
Designed (with the help of business schools) and administered by the Graduate Management Admission Council (GMAC), the GMAT is accepted by thousands of MBA and related master's programs worldwide. Although most MBA programs now also accept the GRE (Graduate Record Examination), the GMAT remains the more commonly taken exam for admission to business school. Every year, about 200,000 people sit for the GMAT.
What is an Executive Assessment?
A relative newcomer, the Executive Assessment (EA) was introduced in 2016 and is required for admissions to many Executive MBA programs, including programs at many top business schools. Like the GMAT, the Executive Assessment is a computer-administered, standardized test designed and administered by GMAC, which gathers input from business programs around the world when creating the exam.
Now, let's take a look at why people choose to take one exam over the other.
EA vs. GMAT: Which Test Should I Take?
If you are applying to standard, full-time MBA programs, chances are you'll need to submit either a GMAT or GRE score with your applications. However, if you are applying to an Executive MBA program, you may need to take the Executive Assessment.
The Executive Assessment test was originally designed for applicants to Executive MBA (EMBA) programs. So, while people with relatively limited work experience applying to full- or part-time MBA programs would take the GMAT, experienced professionals applying to EMBA and select other part-time, weekend, or evening MBA programs would take the Executive Assessment exam.
Now, not every Executive MBA program requires an Executive Assessment score for admission, and schools have varying requirements regarding which entrance exams are required. The GMAC website lists schools and programs that accept the Executive Assessment test, but of course, you should always check the individual websites of the programs you're interested in to get the most up-to-date information about admissions requirements. In other words, you shouldn't assume that because GMAC doesn't list a particular program on their website, you can be sure that program doesn't require Executive Assessment scores for admission.
It's also important to note that while anyone can sit for the Executive Assessment, business schools have various minimum work experience requirements for EMBA program eligibility. That said, in general, EMBA programs tend to require applicants to have anywhere from 5 to 10 years of full-time work experience.However, different programs may have different requirements for how many years of that experience have to be at the management level.
Again, since every program is different, be sure to do your research on the individual program websites, and if you need clarification on anything, don't hesitate to reach out to the school admissions offices by email or phone.
To read the complete article, please visit Target Test Prep's blog.