University of San Francisco School of Management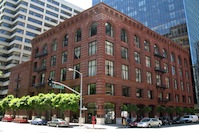 101 Howard Street, Suite 500
San Francisco, CA 94105
-

people following this school
-

people applying to this school
Full-Time MBA Rankings
Bloomberg Businessweek:
News World Report:
Financial Times:
Part-Time MBA Rankings
News World Report:
Executive MBA Rankings
Financial Times:
Online MBA Rankings
Financial Times:
News World Report:
Full-Time MBA Employments
Median Base Salary: $90,000
Median Salary with Bonus: $102,000
% Employed After Graduation: 72.3
Application Essay Prompts
"Statement of Purpose or Essay A 1000 word essay is required and must be uploaded in the online application Please address the following questions in a single document: What are your short and long-term professional goals and how will this degree help you achieve those goals? Why have you chosen this degree and who or what experience influenced you to apply? Why USF? Self-Evaluation (Optional) Use this essay to evaluate your leadership and management skills, capabilities, and talents as they stand today. What would your colleagues/classmates say about you as a leader? What areas do you feel you could further develop? Additional Information (Optional) Use this essay to share any additional information you would like us to consider as part of your application, for example: gaps in employment, academic issues (probation, dismissal, failing grades, standardized test performance), etc. Interview review requirements vary by program. All interviews are by invitation only. As such, should you be selected to interview, an invitation will be sent to the email account associated with your online application and include all necessary details. Scholarship Statement (Optional) The USF School of Management offers general merit and special interest scholarships. Review available scholarships and use this essay to explain your eligibility and/or qualifications for one or more of these scholarships."
Part-Time MBA Employments
Median Base Salary:
Warning: number_format() expects parameter 1 to be double, string given in /vol/www/www.beatthegmat.com/blog/source/wp-content/themes/btgv3/mbawatch/single-bschool-info-view.php on line 137
$
% Employed After Graduation:
Part-Time MBA Employments
Application Essay Prompts
Executive MBA Employments
Median Salary:
Warning: number_format() expects parameter 1 to be double, string given in /vol/www/www.beatthegmat.com/blog/source/wp-content/themes/btgv3/mbawatch/single-bschool-info-view.php on line 151
$
% Employed After Graduation:
Application Essay Prompts
Online MBA Employments
Median Salary:
Warning: number_format() expects parameter 1 to be double, string given in /vol/www/www.beatthegmat.com/blog/source/wp-content/themes/btgv3/mbawatch/single-bschool-info-view.php on line 165
$
% Employed After Graduation:
Application Essay Prompts