Beat The GMAT Team's Featured Posts for 2010 - Reading Comprehension
by
Beat The GMAT, Dec 26, 2010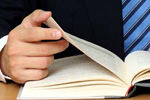 2010 has been a special year for the Beat The GMAT community. This fall we celebrated our 100,000th member and this important milestone reminded us all that we are, first and foremost, a community built by our members for our members. We wanted to thank all of our members, both regular test takers and experts, by featuring some of our favorite threads from our forums. Your wonderful contributions are much appreciated by MBA hopefuls everywhere!
Reading Comprehension (or RC, as youll see it referenced in the forums) is probably the only question type youll see in all standardized tests. For GMAT test takers and especially for non native speakers, its sometimes a struggle to stay focused while tackling long, unentertaining RC passages. If this sounds like you, dont fret! Our community members have plenty of advice on how to hone in your RC skills. Here are our favorite three posts.
10-point increase in verbal score without actually studying for the GMAT
Earlier this year, one of our veteran members was looking for some tips on what to do next in terms of RC strategy. After taking some time off from studying for the GMAT, piyushdabomb decided to restart his work on the test. Interestingly enough, he experienced a 10-point increase in his raw verbal score during the break he took from study. piyushdabombs awesome score increase was due to him catching the reading bug, as he calls it:
I would read a paragraph from the NY times iphone application, summarize the paragraph, move to the next one, till I hit the end. I would also summarize every 3 paragraph chunks so I stayed on track. I would slow down because it would make me think. At the end of the article, I would summarize what I learned.
You can read all about his strategy here.
Whats your approach to mRNA?
Back in August, adi_800 posted an RC passage about mRNA. This was a particularly difficult passage, with a lot of scientific words, which made it quite hard to follow. adi_800 didnt post any GMAT questions with this passage. Instead, he asked community members to provide their opinions about how to best approach such a passage. Do you take notes? How can you make sure you understand the whole passage? Should you just randomly guess and move on? arora007, selango, kvcpk, DanaJ and Stacey Koprince all shared their thoughts on the matter and the entire thread is just packed with good advice. arora007s comments on staying motivated during the test are particularly useful and apply to all sections:
Keep yourself motivated, whatever motivates you, I say to myself, I have just got one life, I will try my best.

A change in attitude towards the problem itself could by itself help you out.
Check out the full discussion here.
Clams will help you break down a science RC passage
In late August, DanaJ hosted a live workshop on RC strategy. To illustrate her approach, she used one of the harder RC sets from our Beat The GMAT Practice Questions. Her hour-long presentation and Q&A focused on tackling science RC passages, a type dreaded by most test takers. However, the strategy she used really paid off. Despite her being a non native speaker, DanaJ got a 47 verbal raw score when she took her GMAT. We then included this RC passage in our Daily Verbal Newsletter. Check out a mind-boggling excerpt:
Within this mantle tissue are millions of tiny zooxanthellae, closely resembling the symbiotic algae found in the corals and the alcyonarians. It has been definitely established that these zooxanthellae form a considerable part of the diet of the Tridacnas, and the modifications found in these molluscs indicate that they are not only specialized for harboring these minute algae, but that they also deliberately farm them.
Read the entire passage here and watch the full workshop here.
Of course, our forums are just teeming with awesome advice. If you happen to stumble upon a gem, please share it with us in the comments section!