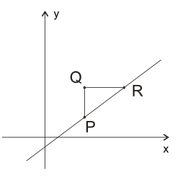 In the figure above, segments PQ and QR are each parallel to one of the coordinate axes. What is the ratio of the length of QR to PQ?
(1) The slope of the line that passes through points P and R is 0.75.
(2) The coordinates of point P are (4,2).
OA
A
Source: Ecpnomist GMAT