Source: e-GMAT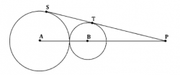 A bigger circle (with center A) and a smaller (circle with center B) are touching each other externally. PT and PS are tangents drawn to these circles from an external point (as shown in the figure). What is the length of ST?
(1) The radii of the bigger and the smaller circles are 9cm and 4cm respectively.
(2) PB = 52/5 cm.
The OA is
A
.
Is there a strategic approach to this question? Can anyone help? Thanks!