5 Must-Read Magazines for Future MBAs
by
Knewton, May 11, 2011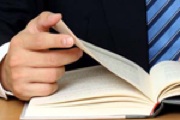 Planning to apply to business school next fall? Whether youre looking to sharpen your knowledge of business or strengthen your GMAT reading comprehension skills, heres a list of magazines and websites to add to your reading regimen. (Weve scored each publication according to their MBA and GMAT prep factor on a scale of 1-5, with 5 being the most helpful, to make the selection process easier.)
Bill Gates once said in an interview that he reads every single page of The Economist every single week. This global weekly magazine is by no means a light read, but -- as one might expect from Gates endorsement -- The Economist is worth the effort. With its scrupulously balanced and unsentimental analysis of world events, The Economist will prepare you for the GMAT, business school, and the rest of your professional life. Dont expect lifestyle pieces or celebrity gossip; The Economist tends to focus on the business and political side of events instead of the personal. Like GMAT passages, the prose can be a tad difficult to digest -- good practice for test day!
GMAT prep factor: 5
MBA prep factor: 5
A lighter and more entertaining read than The Economist and a perfect choice for the non-traditional applicant looking to get a regular dose of business news, Bloomberg Businessweek is a weekly magazine that provides coverage of the latest events and trends in technology, finance, entertainment, and management. If you dont already eat, sleep, and breathe business, this is a perfectly calibrated introduction to the business world. If you do, you might want to opt for The Economist instead which offers a more technical and thorough treatment of world events. Our verdict? Substantial enough to be worth the cost and effort to read but entertaining enough so that you can get through it every month.
GMAT prep factor: 3
MBA prep factor: 5
With its trademark mix of politics, world events, and arts and letters, The New Yorker has come to be synonymous with the culturally elite. In each issue, you can expect coverage of world affairs, national issues, and New York City news; thoughtful art reviews; fiction and poetry; feature articles on cultural happenings; and, of course, the iconic cartoons. The New Yorker isnt a business magazine, but it offers diverse perspectives that will broaden your scope of knowledge and your ability to think independently. Plus, the dense, erudite prose will sharpen your verbal skills for test day.
GMAT prep factor: 5
MBA prep factor: 4
4. The Atlantic
Whether you consider The Atlantic brave and contrarian or wimpy and equivocal (due to recent changes in format and content), the magazine holds a serious place in American letters. Renowned for its in-depth coverage and intellectual courage, The Atlantic has won more National Magazine Awards (industry equivalent of the Oscars) than any other monthly magazine. Its articles on politics, business, social trends, education, literature, and the arts will leave you thoroughly informed. With past contributors such as Ralph Waldo Emerson, Oliver Wendell Homes, Henry Wadsworth Longfellow, Harriet Beecher Stowe, Woodrow Wilson, and Martin Luther King Jr, the magazine is worth subscribing to for its historical relevance alone.
GMAT prep factor: 4
MBA prep factor: 4
5. Wired
With its wry reporting and visual panache, Wired offers a headfirst dive into the tech world. (Considering the importance of technology in today's business world, you're well advised to acquaint yourself with the latest innovations.) Concerned with the philosophical and aesthetic experience of technology as well as the scientific mechanics of the technology itself and its business ramifications, Wired has achieved a voice that is idiosyncratic and instantly recognizable; what else would you expect from a magazine that coined the phrases long tail and crowdsourcing? In each issue, expect to find reviews of newly released gadgets, lists of the newest/coolest/sleekest across categories, brainteasers and puzzles, and features that address questions such as How does Apple do so well when it behaves so badly? and Can Quora win over the world?
While the articles in Wired may not help prep you for GMAT Reading Comprehension, the quirky articles will help ensure you have plenty to talk about with your new b-school friends.
GMAT prep factor: 2
MBA prep factor: 4
Fun factor: 5
Looking for more resources? Check out:
MBA Gym: This fun, helpful resource from the Financial Times offers 15 minute work-outs on every subject from marketing to finance to organizational behavior. MBA Gym is especially helpful if youre not sure you want to do an MBA or if you're just looking to see if an MBA is right for you.
Business Insider: If you like what you see, sign up for the Instant MBA Newsletter which offers business advice and inspiration.
This article was written by Christina Yu.