My Journey to B-School (Part 2: Deadlines, Branding, and Interviews)
by
, Jun 22, 2010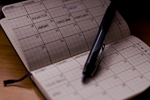 In my last article on June 5th, I shared some of my experiences from my road to business school. From taking the GMAT, to evaluating my goals, to selecting programs, the significant amount of pre-work I completed was a learning experience in itself. In the end, it led me to an even great task: my application. Today Ill share with you what I learned while trying to put my best foot forward for the admissions committees.
Lesson 1: Start Early and Get it Over With
Most of you know about the first round, second round, and third round application cycle that many business schools employ, including HBS and NYU. What you may not know is the significant difference between applying in each round. Time and time again, admissions officers have told me of the difficulty of accepting even the best applicants in the later rounds of admission, because at that point they simply have few spots to fill, and are often trying to round out the class by filling more holes (more liberal arts backgrounds, more students from out of state, etc). To increase your chances of being evaluated by your merits alone, I would suggest applying in the first round whenever possible. For schools with rolling deadlines, such as Columbia, earlier is always better. By applying early, youre also sending a message that you are committed to the choice of attending business school, and have given it a lot of thought. This is always an attractive quality in a candidate.
To know how to proceed, work backwards. First Round deadlines are usually in October or November. You should plan to devote one to two months exclusively on preparing your application, including writing your essays, getting letters of recommendation, and gathering supporting materials. Dont be studying for the GMAT at this time, or youll drive yourself crazy. Plan to take the GMAT in August or September. If youre going to take a prep class (like The Princeton Reviews Classroom Course), or even if youre going to use self study, you should be starting in June or July. Oh wait, its almost the end of Junestart now!
Lesson 2: Know Your Brand
The admissions committee wants to know who you really are and how you are going to be an asset to their community while you are a student, and even as an alumnus in years to come. Make it easy on them. Craft a story for yourself that takes all of your various interests, experiences, and education, and presents them all as a tidy package that they can fit right into their business school community. The key is to have an underlying thesis statement to which all of your supporting evidence will point. This statement is your brand, and it should start with, You will love having me at your school because I
Of course, this will present different challenges for different applicants. For the finance major that went to a big bank, worked as an analyst, and wants to continue her career path, the message may be simple, but the difficulty lies in showing your individuality and the unique contribution you will be able to make. Now is the time to back to the self-reflection I mentioned in my last article. What do you do in your spare time? What makes you different from your co-workers and friends? How do these aspects of your life explain who you are as a person? It may take a little digging, but in the answers to these questions you will find your brand.
For me, the challenge was different. My history spanned a wide selection of experiences, from education to customer service to non-profits, and my college major was a unique product of old school California hippies and had very little relevance to the business world. Rather than just put on paper what I thought I wanted, a new career in business, I took a look at my resume using an objective eye. If I didnt know myself, what would I know about me on paper? Im interested in social justice. I like helping people. Im good at managing projects. I started to use these facts to craft my brand: You will love having me at your school because I want to use business management skills in an unconventional way, to consult with non-profits and help them to be more successful and sustainable, and I will bring my liberal arts sensibilities to my fellow classmates and colleagues. My statement clearly communicates my value to the school and the distinct contribution they would see from me.
Lesson 3: The Interview
While not all business schools allow an in-person interview, and even fewer make it a requirement, you should always take the chance to be interviewed if invited. No matter where the interview takes placeadmissions office, faculty lounge, coffee shoptreat this as though you were interviewing for your dream job. Wear a suit. Practice answering some questions. Wear deodorant. (I really hope you that one wasnt a new lesson for you!)
While preparing for you interview, remember your brand. The day of the interview, read your admissions essay again, because theres no doubt your interviewer will. Much of what your interviewer will be evaluating is whether or now you stay on message; if you seem like the same person face-to-face that you are on the page. Be honest and open in all of your responses, but do so remembering your underlying message: You want me here because Write a thank you note reiterating your answers and restating your brand.
In the end, my self-awareness and carefully presented application (and awesome GMAT score, of course!) got me in to the one and only school I applied to: The Zicklin School of Business at Baruch College in New York City. I will start my pre-term program on August 2nd, and look forward to continuing to share my experiences and challenges as a first year MBA student with you (along with some killer GMAT tips from The Princeton Review!). If you have any questions or comments about my story, feel free to leave them in the comments.