Harvard Business School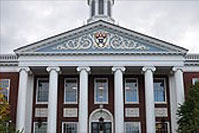 Soldiers Field
Boston, MA 02163
-

people following this school
-

people applying to this school
Full-Time MBA Rankings
Bloomberg Businessweek: 1
News World Report: 1
Financial Times: 5
Part-Time MBA Rankings
News World Report:
Executive MBA Rankings
Financial Times:
Online MBA Rankings
Financial Times:
News World Report:
Full-Time MBA Employments
Median Base Salary: $135,000
Median Salary with Bonus: $160,000
% Employed After Graduation: 91.0
Application Essay Prompts
"There is one question for the Class of 2021: As we review your application, what more would you like us to know as we consider your candidacy for the Harvard Business School MBA program? There is no word limit for this question. We think you know what guidance we're going to give here. Don't overthink, overcraft and overwrite. Just answer the question in clear language that those of us who don't know your world can understand. Joint program applicants for the Harvard Medical School, Harvard School of Dental Medicine, Harvard Law School, and Harvard Kennedy School must provide an additional essay: How do you expect the joint degree experience to benefit you on both a professional and a personal level? (400 words)"
Part-Time MBA Employments
Median Base Salary:
Warning: number_format() expects parameter 1 to be double, string given in /vol/www/www.beatthegmat.com/blog/source/wp-content/themes/btgv3/mbawatch/single-bschool-info-view.php on line 137
$
% Employed After Graduation:
Part-Time MBA Employments
Application Essay Prompts
Executive MBA Employments
Median Salary:
Warning: number_format() expects parameter 1 to be double, string given in /vol/www/www.beatthegmat.com/blog/source/wp-content/themes/btgv3/mbawatch/single-bschool-info-view.php on line 151
$
% Employed After Graduation:
Application Essay Prompts
Online MBA Employments
Median Salary:
Warning: number_format() expects parameter 1 to be double, string given in /vol/www/www.beatthegmat.com/blog/source/wp-content/themes/btgv3/mbawatch/single-bschool-info-view.php on line 165
$
% Employed After Graduation:
Application Essay Prompts
ARTICLES