Carroll School of Management (Boston College)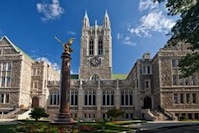 140 Commonweatlth Ave, Fulton 315
Chestnut Hill, MA 02467
-

people following this school
-

people applying to this school
Full-Time MBA Rankings
Bloomberg Businessweek: 48
News World Report: 44
Financial Times: 80
Part-Time MBA Rankings
News World Report: 46
Executive MBA Rankings
Financial Times:
Online MBA Rankings
Financial Times:
News World Report:
Full-Time MBA Employments
Median Base Salary: $90,000
Median Salary with Bonus: $116,433
% Employed After Graduation: 88.0
Application Essay Prompts
"Please discuss how you plan to achieve your short and long term career goals following graduation from Boston College. What challenges will you face and how will Boston College help you develop your skills and leverage your professional experiences to achieve these goals? (500 words) Optional Essay (select one): (1) Please introduce yourself to the BC community. Feel free to be creative in expressing your message. (2) If you have not had coursework in core business subjects (accounting, finance, microeconomics, statistics), or if your standardized test scores are low, please tell us how you plan to prepare for the quantitative rigor of the BC MBA curriculum. (3) Is there any other aspect of your candidacy that you would like to explain in more detail? (500 words)"
Part-Time MBA Employments
Median Base Salary: $102,054
% Employed After Graduation: 67.0
Part-Time MBA Employments
Application Essay Prompts
Personal Essay
Executive MBA Employments
Median Salary:
Warning: number_format() expects parameter 1 to be double, string given in /vol/www/www.beatthegmat.com/blog/source/wp-content/themes/btgv3/mbawatch/single-bschool-info-view.php on line 151
$
% Employed After Graduation:
Application Essay Prompts
Online MBA Employments
Median Salary:
Warning: number_format() expects parameter 1 to be double, string given in /vol/www/www.beatthegmat.com/blog/source/wp-content/themes/btgv3/mbawatch/single-bschool-info-view.php on line 165
$
% Employed After Graduation:
Application Essay Prompts