Face Off: Stanford GSB vs Berkeley Haas
by
Stacy Blackman Consulting, Jun 10, 2019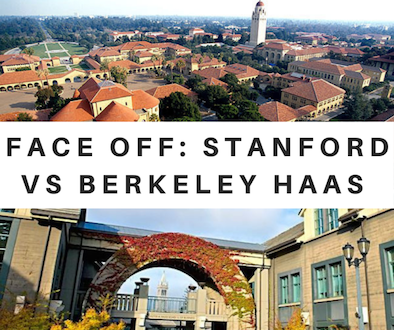 The school selection process for MBA applicants can seem overwhelming. With so many great business schools, how do you decide which one is right for you? In SBCs new blog seriesFace Off, we tease out the strengths and differences between two similarly ranked b-schools. Plus, well highlight noteworthy elements of their admissions processes. First item of business today: the Stanford MBA application versus the UC Berkeley Haas MBA application.
How do the admissions requirements and selectivity compare between the pair?
The Stanford Graduate School of Business is more selective and has the lowest acceptance rate of any MBA program. Their admissions requirements are comparable, with test scores, competitive GPA, rec letters and essays expected by both. Regarding essays, the Stanford MBA application prompts have remained the same for years: What matters most to you, and why? and Why Stanford?
In contrast to the Stanford MBA application, the essay questions at UC Berkeley Haas School of Business have historically focused on personality and moments. For example, last season, one Haas application essay prompt was, Tell us a six-word story that reflects a memorable experience in your life-to-date. Elaborate on why it is meaningful to you."
[caption id="attachment_27524" align="alignnone" width="734"]
UC Berkeley Haas School of Business[/caption]
Previous application essay prompts for Haas were equally creative. Some years, Haas would ask about a favorite song. When asked about their favorite song essay submission, one member cited, 'Always Be My Baby' by Mariah Carey---a football player described how he used it to pump him up before each game in the locker room. Another mentioned a very personal story about a song the candidate wrote for his fiance, shares a former Haas Admissions Officer at Stacy Blackman Consulting.
How do the quality of the MBA cohorts compare, and what about the culture?
Both programs are known to be collaborative, with self-aware, well-rounded and inspired student culture, says Stacy Blackman. Neither program is known for a hyper-competitive vibe, the way HBS or Wharton have been characterized.
I advise applicants to draw their own conclusions. I ask clients to visit the schools or engage virtually to get a sense of whether one would fit in, shares a former GSB Admissions Officer on the Stacy Blackman Consulting team.
"With lower acceptance rates and greater selectively, its likely GSBs student culture and population allows for deeper intellectual exploration," Blackman adds.
What are the advantages of being based in Silicon Valley?
Advantages:
It is no secret that the location of both Haas and GSB is ideal for goals in the technology arena. Studying in the center of Silicon Valley provide access to industry lecturers, case studies, team projects for local companies, on-site company visits and more. Silicon Valley is home to technologists, innovators, life science visionaries, and venture capitalists. The location can facilitate finding the right job for technology talents and interests.
Caveats:
Functions within the tech universe, such as entrepreneurship and venture capital, are more associated with brand/prestige of the MBA program than Silicon Valley itself. Haass employment reports lack data on entrepreneurs and venture capital placement specifically.
Our clients would usually favor HBS, GSB, and Wharton (over Haas) for the arenas of entrepreneurship and venture capital. By contrast, GSB does report graduates into both entrepreneurship and venture capital, as we would predict because of its stronger brand.
More than tech
At the same time, These career paths arent the only ambitions that Haas and GSB empower. For example, the Bay Area is a prime location for students aspiring toward international business. California serves as a gateway to South American and Asian economies, with many of the world's global companies headquartered in the Bay Area, says Blackman.
Because Stanford is a private institution and Haas is not, does Stanford have more resources to dedicate to teaching, facilities, etc?
[caption id="attachment_32756" align="alignnone" width="734"]
Stanford Graduate School of Business[/caption]
Stanford has far more resources, and it shows through its facilities, faculty caliber, etc. GSB also has less distractions, as it only has the two-year, full-time MBA program. Haas has part-time and EMBA programs, and it encompasses the undergraduates that are part of the Haas School.
The GSB also has more faculty, approx 100, whereas Haas has around 80. These numbers are possibly higher at GSB because of the exclusive focus on its full-time, two-year MBA Program. Stanfords MsX program (non-MBA) is a recent addition however; but its a small program.
For a deeper dive into the teaching methods and curricula at both schools, check out this article from Poets & Quants.
What are the key differences that prospective MBA students should consider?
Career aspirations should be a key factor in deciding which program to pursue. A former Haas Admissions Officer on the Stacy Blackman team shared, GSB is more entrepreneurial-focused. GSB is better recognized than Haas for its graduates who have become successful tech leaders and entrepreneurs. GSB is oriented more to the start-up, entrepreneurial focus. Haas has more graduates going into more traditional post-MBA roles (consulting, product management, finance).
How do the career outcomes between the schools stack up?
There is a perception that they are both tech or entrepreneurial schools. Career placement data for both schools shows tech dominance, but there is also a very recent decrease in tech placement. Tech recruiting trends can be seen via Haas and GSBs employment reports.
The tech representation for Haas graduates has decreased to around 37%, which is still much higher than even MIT Sloans placement into tech over the years (which hovers closely around 30%) and is roughly double the placement of HBS graduates into tech industry.
Similarly, GSBs placement into the tech industry was consistently been between 30 and 35% for the years between 2012 and 2016, with the peak placement of 35% for the class of 2015.
Like Haas, the most recent report for GSB shows a relative decrease recently; GSB is at around 25% placement into the tech industry as shown in its 2016-2017 employment report. That 25% is still much higher than HBS, Wharton etc., but overshadowed by MIT and Haass placement stats in technology for the same period.
Final notes on each program
The Haas School is known for its diverse and talented faculty, staff, students and alumni. They have created an innovative academic culture that stresses cooperative teamwork, entrepreneurship, a global point of view, and an emphasis on new ideas and fresh perspectives. TRANSFORMATION was a theme of the Adcom. The program focuses on developing Berkeley leaders. Haas believes in helping people find meaningful work.
Unlike some other programs, Stanfords GSB never publicly releases grades, keeping them a private matter between students and faculty members. The GSB offers a highly customized program. After a shared experience in the first quarter, students no longer have specific required courses, but select courses to meet their own set of distribution requirements. With the help of a faculty adviser, each GSB student creates a study plan to challenge and push themselves, tailored to their past experience level.
We hope this deep-dive comparison between the Stanford MBA application and Haas application has given you helpful intel as you make your school selection decisions this season. tuned for more Face Off posts to come.
***
If you are looking for guidance on your
MBA
application, Stacy Blackman Consulting can help withhourlyandcomprehensiveconsulting services.Contact usto learn more. Visit the website forStacy Blackman Reviews, and check out the companys e-publications for more in depth school-by-school guidance.