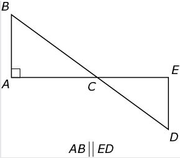 Note: Figure not drawn to scale.
In the figure above, ED = 1, CD = 2, and AE =6√3. What is the perimeter of Ξ"ABC ?
A. 3√3
B. 10+5√3
C. 10√3
D. 15+5√3
E. 25√3
The OA is
D
.
I need help with this PS question. Please, can any expert explain it for me? Thanks.