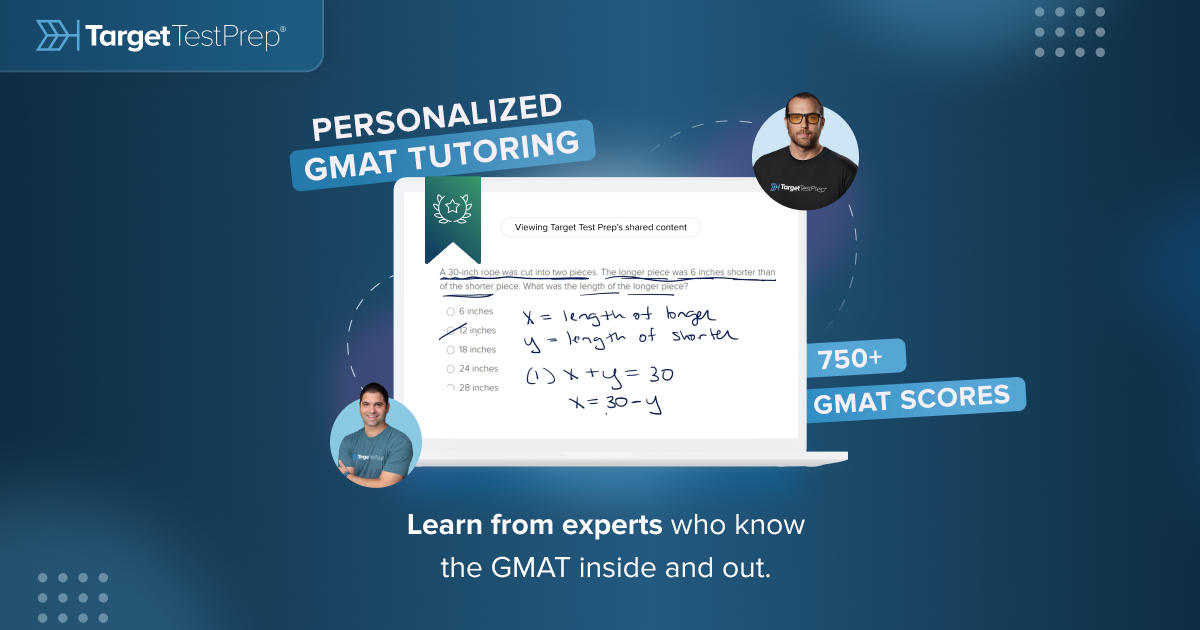 Hello, my friends at Beat The GMAT!
Many of you have requested private GMAT tutoring. We're happy to say that, since the round two rush is now over, we again have some spaces open for students interested in working one-on-one with Rich, Marty, Jeff, or me to prepare for the GMAT.
Over the years, we've helped thousands of students earn impressive GMAT scores. Whether you're 30 points or 300 points from your GMAT goal, we've got you covered. We'll work closely together to help you earn the maximum possible GMAT score in the shortest possible time.
Why Enroll in Private GMAT Tutoring with TTP?
We Know the GMAT Better than Anyone
: When you work with us, you're working with GMAT veterans with a deep understanding of what it takes to succeed on the GMAT. We know how to think like the test-makers and beat them at their own game. We're widely recognized experts with a depth and breadth of GMAT experience unparalleled in the industry.
We're Expert Teachers
: Even more important than our deep GMAT knowledge is our expert teaching ability. Everything we do together will be clear, actionable, and to the point. We'll make even the most challenging concepts, strategies, and skills come to life for you. You can expect one of the best teaching experiences you've ever had.
An Experienced Partner in Your Journey
: When you work with us, you get more than just an expert teacher; you get an experienced partner in your GMAT journey. We've been through the GMAT preparation process thousands of times with thousands of students, and we know how to handle every aspect of the process. We'll be with you each step of the way.
Personalized to Your Needs
: Private tutoring is completely personalized to meet your unique needs. During each step of the process, you'll be learning exactly what you need (and nothing you don't) to move one step closer to your target GMAT score. Wherever you are in your GMAT journey, with each passing lesson, you'll see your knowledge, skills, and confidence soar. Come test day, you'll be fully prepared to battle the GMAT.
One Shared Goal
: To get you the highest GMAT score possible! Together we can make it happen.
Want to Learn More?
We're happy to have a thoughtful, honest conversation with you about your unique situation, GMAT goals, and business school plans. During this call, we'll further explain the private tutoring process and answer any questions that you may have.
Click here
to learn more about our tutoring sessions.
Warmest regards,
Scott