Tuck School of Business (Dartmouth College)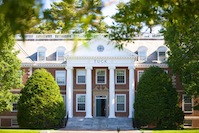 100 Tuck Hall
Hanover, NH 03755 USA
-

people following this school
-

people applying to this school
2016/2017 ESSAY QUESTIONS
Note:
Please respond fully but concisely to the following essay questions. There are no right or wrong answers. We encourage applicants to limit the length of their responses to 500 words for each essay. Please double-space your responses.
(Required) Essay 1: Tuck educates wise leaders who better the world of business. What are your short- and long-term goals? How will a Tuck MBA enable you to become a wise leader with global impact?
(Required) Essay 2: As a diverse and global community, our students arrive at the same place from many different paths. Tell us about an experience in which you have had to live, learn and/or work with other people very different from yourself. What challenges and/or opportunities did you experience, how did you respond, and what did you learn about yourself as a result?
(Optional) Essay: Please provide any additional insight or information that you have not addressed elsewhere that may be helpful in reviewing your application (e.g., unusual choice of evaluators, weaknesses in academic performance, unexplained job gaps or changes, etc.). Complete this question only if you feel your candidacy is not fully represented by this application.
Reapplicant Essay: How have you strengthened your candidacy since you last applied? Please reflect on how you have grown personally and professionally.