Thunderbird School of Global Management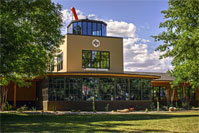 1 Global Place
Glendale AZ 85306
-

people following this school
-

people applying to this school
Full-Time MBA Rankings
Bloomberg Businessweek:
News World Report: 88
Financial Times:
Part-Time MBA Rankings
News World Report:
Executive MBA Rankings
Financial Times:
Online MBA Rankings
Financial Times:
News World Report:
Full-Time MBA Employments
Median Base Salary: $83,034
Median Salary with Bonus: $94,214
% Employed After Graduation: 52.0
Application Essay Prompts
"Describe your academic and career plans and any special interest (for example, undergraduate research, academic interests, leadership opportunities, etc.) that you are eager to pursue as an undergraduate at Thunderbird School of Global Management. Also, if you encountered any unusual circumstances, challenges, or obstacles in pursuit of your education, share those experiences and how you overcame them. Some students have a background, identity, interest or talent that is so meaningful they believe their application would be incomplete without it. If this sounds like you, then please share your story. The lessons we take from failure can be fundamental to later success. Recount an incident or time when you have experienced failure. How did it affect you, and what did you learn from the experience? Reflect on a time when you challenged a belief or idea. What prompted you to act? Would you make the same decision again? Describe a problem youve solved or a problem youd like to solve. It can be an intellectual challenge, a research query, an ethical dilemma-anything that is of personal importance, no matter the scale. Explain its significance to you and what steps you took or could be taken to identify a solution. Discuss an accomplishment or event, formal or informal, that marked your transition from childhood to adulthood within your culture, community, or family. Explain your interest in the major you selected and describe how you have recently explored or developed this interest inside and/or outside the classroom. You may also explain how this major relates to your future career goals. You may include any majors or areas of study you are currently considering."
Part-Time MBA Employments
Median Base Salary:
Warning: number_format() expects parameter 1 to be double, string given in /vol/www/www.beatthegmat.com/blog/source/wp-content/themes/btgv3/mbawatch/single-bschool-info-view.php on line 137
$
% Employed After Graduation:
Part-Time MBA Employments
Application Essay Prompts
Executive MBA Employments
Median Salary:
Warning: number_format() expects parameter 1 to be double, string given in /vol/www/www.beatthegmat.com/blog/source/wp-content/themes/btgv3/mbawatch/single-bschool-info-view.php on line 151
$
% Employed After Graduation:
Application Essay Prompts
Online MBA Employments
Median Salary:
Warning: number_format() expects parameter 1 to be double, string given in /vol/www/www.beatthegmat.com/blog/source/wp-content/themes/btgv3/mbawatch/single-bschool-info-view.php on line 165
$
% Employed After Graduation:
Application Essay Prompts