Drucker School of Management (Claremont Graduate University)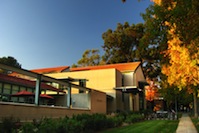 1021 N. Dartmouth Ave.
Claremont, CA 91711
-

people following this school
-

people applying to this school
2012/2013 ESSAY QUESTIONS
Personal Statement (required): At the Drucker School, creativity and innovation are at the core of what we teach. We pride ourselves on giving our students the tools and knowledge they need to find creative solutions to management problems. With this in mind, discuss a time when you used creativity and innovation in your personal or professional life to solve a problem, create change, or make an impact within an organization, group, or team.
Visual Essay (required): Develop a roadmap that gives a visual representation of who you are personally and professionally, and why a Drucker MBA is important to you. The roadmap should depict your career aspirations and demonstrate how a Drucker MBA will help you achieve your career goals.