Terry College of Business (University of Georgia)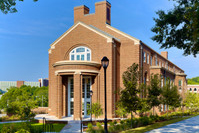 314 Correll Hall, 600 S. Lumpkin St.
Athens, GA 30602
-

people following this school
-

people applying to this school
2016/2017 ESSAY QUESTIONS
Required Essay: In 500 words or less, please discuss the personal and professional accomplishments and passions that are most significant to you and how those accomplishments and passions relate to your short- and long-term career goals. Please use examples to illustrate your discussion.
Optional Essay: Please use this optional essay to share relevant information with the Admissions Committee that isn't revealed anywhere else in your application materials. The Admissions Committee wants to understand you as a whole person, in context, so use this essay to "fill any holes" in the rest of your application.