Schulich School of Business (York University)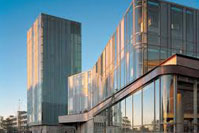 4700 Keele Street
Toronto, Ontario
Canada
-

people following this school
-

people applying to this school
Full-Time MBA Rankings
Bloomberg Businessweek:
News World Report:
Financial Times:
Part-Time MBA Rankings
News World Report:
Executive MBA Rankings
Financial Times:
Online MBA Rankings
Financial Times:
News World Report:
Full-Time MBA Employments
Median Base Salary: $90,700
Median Salary with Bonus: $100,754
% Employed After Graduation: 92.0
Application Essay Prompts
"How will the Schulich MBA degree help you achieve your short and long-term career goals? (350 words) Schulich York Additional Information Essay. Is there any other information or areas of concern in your academic or personal history that you believe would be helpful to the Admissions Committee in considering your application? (350 words) Video Essay and Timed Writing Sample Before embarking on these application elements, you will need: 1. an uninterrupted 20 to 30 minutes 2. a stable webcam and proper keyboard 3. to be dressed in interview-appropriate clothing Once you are set up, please use the unique link below to record two video essays and to complete a five-minute timed writing sample. Kindly note that these must be completed in one sitting, and you only get one chance to record your answer to each question. We suggest that you review our Application Tips, above, before getting started. When registering, to ensure that the Video Essays and Timed Writing Sample get matched up with your application, please be sure to use the same email address that you are using for this application. Timed writing sample tips from York: You will have up to 5 minutes to answer a question we provide in writing. This allows us see what you come up with on the spot. We will not expect a polished product, but will continue to look for interesting ideas, correct spelling and proper syntax."
Part-Time MBA Employments
Median Base Salary:
Warning: number_format() expects parameter 1 to be double, string given in /vol/www/www.beatthegmat.com/blog/source/wp-content/themes/btgv3/mbawatch/single-bschool-info-view.php on line 137
$
% Employed After Graduation:
Part-Time MBA Employments
Application Essay Prompts
Executive MBA Employments
Median Salary:
Warning: number_format() expects parameter 1 to be double, string given in /vol/www/www.beatthegmat.com/blog/source/wp-content/themes/btgv3/mbawatch/single-bschool-info-view.php on line 151
$
% Employed After Graduation:
Application Essay Prompts
Online MBA Employments
Median Salary:
Warning: number_format() expects parameter 1 to be double, string given in /vol/www/www.beatthegmat.com/blog/source/wp-content/themes/btgv3/mbawatch/single-bschool-info-view.php on line 165
$
% Employed After Graduation:
Application Essay Prompts
ARTICLES