Rotman School of Management (University of Toronto)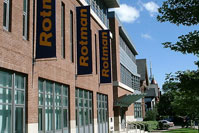 105 St. George Street
Toronto, Ontario M5S 3E6
Canada
-

people following this school
-

people applying to this school
Full-Time MBA Rankings
Bloomberg Businessweek:
News World Report:
Financial Times: 86
Part-Time MBA Rankings
News World Report:
Executive MBA Rankings
Financial Times:
Online MBA Rankings
Financial Times:
News World Report:
Full-Time MBA Employments
Median Base Salary: $85,000
Median Salary with Bonus: $101,270
% Employed After Graduation: 83.6
Application Essay Prompts
"Why have you decided to pursue an MBA at Rotman at this point in your career, and where do you envision your career going post-MBA? The Rotman School of Management is uniquely located in downtown Toronto, the heart of Canadas business and financial centre. Toronto is the worlds most multicultural city, and is the fourth largest city in North America. How do you plan to maximize the opportunities available to you by studying in Toronto? Video Essay: The video interview component is a required part of Rotman admissions process designed to give all candidates guaranteed ""face time"" with the Admissions Committee and showcase your personality, characteristics, passions, and values. You will have an opportunity to test the technology, and then will be asked two taped questions. Both questions are personality/values based and are designed to be answered without any advanced preparation and will only take a few minutes to complete. Optional Essays: Please provide any additional information not addressed elsewhere in your application materials which will help the Admissions Committee learn more about your candidacy; Please address any employment gaps, academic concerns, strengths or weaknesses."
Part-Time MBA Employments
Median Base Salary:
Warning: number_format() expects parameter 1 to be double, string given in /vol/www/www.beatthegmat.com/blog/source/wp-content/themes/btgv3/mbawatch/single-bschool-info-view.php on line 137
$
% Employed After Graduation:
Part-Time MBA Employments
Application Essay Prompts
Executive MBA Employments
Median Salary:
Warning: number_format() expects parameter 1 to be double, string given in /vol/www/www.beatthegmat.com/blog/source/wp-content/themes/btgv3/mbawatch/single-bschool-info-view.php on line 151
$
% Employed After Graduation:
Application Essay Prompts
Online MBA Employments
Median Salary:
Warning: number_format() expects parameter 1 to be double, string given in /vol/www/www.beatthegmat.com/blog/source/wp-content/themes/btgv3/mbawatch/single-bschool-info-view.php on line 165
$
% Employed After Graduation:
Application Essay Prompts
ARTICLES