Owen Graduate School of Management (Vanderbilt)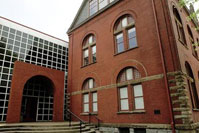 401 21st Avenue South
Nashville, TN 37203
-

people following this school
-

people applying to this school
Full-Time MBA Rankings
Bloomberg Businessweek: 32
News World Report: 26
Financial Times: 73
Part-Time MBA Rankings
News World Report:
Executive MBA Rankings
Financial Times:
Online MBA Rankings
Financial Times:
News World Report:
Full-Time MBA Employments
Median Base Salary: $110,000
Median Salary with Bonus: $135,000
% Employed After Graduation: 90.0
Application Essay Prompts
"Your essays give us great insight into your personality and your other unique qualities. You will submit the required essay with your online application. Please note word or character limits for additional essays. Use a font size of 10 to 12 points. Essay One. While business school is a time for exploration, we do expect you to have a strong sense about why you want an MBA and what you hope to do once you graduate. Applying to business school is an introspective process, and we want to make sure you have a good sense for what you want from a program, where you hope it will lead you and why Owen is well suited to help you attain your goals. In addition, you should understand what skills you possess that will be transferrable to another job or industry. Optional Essay. If necessary, you may provide an additional statement to explain poor academic performance, weak test scores, significant gaps in full-time employment, lack of recommendation from your current or most recent supervisor, academic misconduct or anything else that you think is important for the Admissions Committee to know about you that is not already addressed elsewhere in your application. Please use the Optional Essay space in the online application. Video Essay. The video essay is a required component of the online application. Our goal in asking you for a short video essay is to be able to get a glimpse of the authentic you, speaking without a script. The video questions are easy to answer and you should not be nervous about this. You will have time to prepare and to record your answer. Just follow the instructions on the application."
Part-Time MBA Employments
Median Base Salary:
Warning: number_format() expects parameter 1 to be double, string given in /vol/www/www.beatthegmat.com/blog/source/wp-content/themes/btgv3/mbawatch/single-bschool-info-view.php on line 137
$
% Employed After Graduation:
Part-Time MBA Employments
Application Essay Prompts
Executive MBA Employments
Median Salary:
Warning: number_format() expects parameter 1 to be double, string given in /vol/www/www.beatthegmat.com/blog/source/wp-content/themes/btgv3/mbawatch/single-bschool-info-view.php on line 151
$
% Employed After Graduation:
Application Essay Prompts
Online MBA Employments
Median Salary:
Warning: number_format() expects parameter 1 to be double, string given in /vol/www/www.beatthegmat.com/blog/source/wp-content/themes/btgv3/mbawatch/single-bschool-info-view.php on line 165
$
% Employed After Graduation:
Application Essay Prompts
ARTICLES