Babson College (F.W. Olin Graduate School of Business)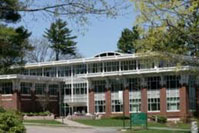 231 Forest Street
Babson Park, MA 02457
-

people following this school
-

people applying to this school
Full-Time MBA Rankings
Bloomberg Businessweek: 61
News World Report: 83
Financial Times: 81
Part-Time MBA Rankings
News World Report: 66
Executive MBA Rankings
Financial Times:
Online MBA Rankings
Financial Times:
News World Report:
Full-Time MBA Employments
Median Base Salary: $80,000
Median Salary with Bonus: $90,282
% Employed After Graduation: 84.0
Application Essay Prompts
answer the question completely, but succinctly. Essays should be no more than one page, and should answer the Babson essay prompt specifically. use the Optional Essay to describe any gaps in your resume, academic background concerns, or interesting things about you that you feel werent properly addressed elsewhere in the application.
Part-Time MBA Employments
Median Base Salary: $96,780
% Employed After Graduation: 86.0
Part-Time MBA Employments
Application Essay Prompts
"For new applicants in all full-time and working professionals programs, an essay is required. Applicants may choose from one of two prompts listed below and respond in 500 words or less. Essay Option A Babson College educates entrepreneurial leaders who create great economic and social value everywhere. Using Babsons mission, describe your short- and long-term goals and how your goal(s) align with this mission. We encourage you to highlight your strengths, any recent accomplishments, or future ambitions. Essay Option B Babson educates entrepreneurs of all kinds. Some students will seek to start businesses, others will seek to grow an established business with innovative approaches and solutions. What kind of entrepreneur will you be? How do you intend to leverage Babsons resources to support your ambitions?"
Executive MBA Employments
Median Salary:
Warning: number_format() expects parameter 1 to be double, string given in /vol/www/www.beatthegmat.com/blog/source/wp-content/themes/btgv3/mbawatch/single-bschool-info-view.php on line 151
$
% Employed After Graduation:
Application Essay Prompts
Online MBA Employments
Median Salary:
Warning: number_format() expects parameter 1 to be double, string given in /vol/www/www.beatthegmat.com/blog/source/wp-content/themes/btgv3/mbawatch/single-bschool-info-view.php on line 165
$
% Employed After Graduation:
Application Essay Prompts