Nanyang Business School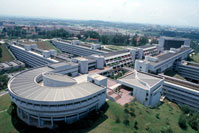 50 Nanyang Avenue
Singapore 639798
-

people following this school
-

people applying to this school
Full-Time MBA Rankings
Bloomberg Businessweek:
News World Report:
Financial Times: 22
Part-Time MBA Rankings
News World Report:
Executive MBA Rankings
Financial Times:
Online MBA Rankings
Financial Times:
News World Report:
Full-Time MBA Employments
Median Base Salary: $93,000
Median Salary with Bonus: $117,000
% Employed After Graduation: 96.0
Application Essay Prompts
"Essay One: Briefly describe your involvement in any Social Responsibility or Sustainable Development activities (maximum 150 words) From this prompt, it is obvious that Nanyang places social responsibility very high on its list of priorities. While describing your involvement, dont forget to explain your motivation for undertaking the task in question, and the impact it made. In all likelihood, you will have worked in a group, so that you can also bring out the collaborative nature of your undertaking. Journalists follow a classical rule while reporting events, and you may possibly find this useful in your description. It is called the five Ws and one H. In presenting any account, say who was involved, what happened, where and when it took place, and why and how it happened. Answering these questions ensures that you give a complete picture of the situation. Essay Two: Briefly assess your career progress to date. Elaborate on your near-term (3-5 years) future career objectives and how pursuing a Nanyang MBA will help you achieve these. (400 word limit) While assessing your career progress, you need not go into detail regarding your technical accomplishments. Rather, you should concentrate on the leadership roles you assumed, since this is what the adcom will be primarily concerned with. Explain what drove you into this career, and why a particular career path especially appeals to you. If there has been any switch in career roles, or gaps between different jobs, give credible reasons for the same. Following this, point out the short-term and long-term goals you have formulated for yourself, and then zero in on the skills you still need to acquire, and on why you think Nanyang is your best bet in this regard. Cogent reasons might include its strong Asia-focus, its high ranking, and its location in one of the worlds most liveable and efficient cities. Essay Three: Tell us about two achievements (one personal and one professional) that you are most proud of, and why you feel that to be so. (400 word limit) There are certain attributes all business schools look for in applicants impactful leadership, community service, a sense of vision and the capacity to think big, initiative, integrity, communications skills, the ability to be a team player, self-awareness, etc. Therefore, when you discuss your personal and professional achievements, make certain you focus on one or more of these traits. Since you have already spoken of community service in your first answer, this does not need to feature again here. Let us suppose you topped your batch in college, and you also took the lead in organizing an alumni association. While the first example might reflect your academic brilliance, it does not by itself reflect any of the qualities listed above. However, the fact that, with the help of your colleagues, you organized an alumni association will be seen as indicative of your initiative and collaborative spirit. Hence, it would be more judicious to mention the latter achievement. Do not neglect to point out the impact of your achievements, for this is something the adcom is always on the look-out for. Essay Four: How do you anticipate contributing to the Nanyang MBA Program and your fellow participants? It may be helpful to share experiences from your past where you have been able to do something similar. (400 word limit) To answer this question properly, you need a thorough familiarity with the program. Find out as much about the program as you can from all available sources the Nanyang website, alumni, current students, etc. As such, a visit to the campus would be highly recommended. Once you have a good idea of what the program is all about, it will be much easier for you to decide which areas you would like to contribute to. This will naturally depend on the expertise, skills, and knowledge you have picked up in the past. Therefore, when you state, in this essay, exactly where you would like to contribute, cite instances from your personal and/or professional life where you have participated in similar activities or been involved in similar engagements. This will be required to convince the adcom that you are not speaking merely theoretically, but are actually equipped to put your words into concrete action."
Part-Time MBA Employments
Median Base Salary:
Warning: number_format() expects parameter 1 to be double, string given in /vol/www/www.beatthegmat.com/blog/source/wp-content/themes/btgv3/mbawatch/single-bschool-info-view.php on line 137
$
% Employed After Graduation:
Part-Time MBA Employments
Application Essay Prompts
Executive MBA Employments
Median Salary:
Warning: number_format() expects parameter 1 to be double, string given in /vol/www/www.beatthegmat.com/blog/source/wp-content/themes/btgv3/mbawatch/single-bschool-info-view.php on line 151
$
% Employed After Graduation:
Application Essay Prompts
Online MBA Employments
Median Salary:
Warning: number_format() expects parameter 1 to be double, string given in /vol/www/www.beatthegmat.com/blog/source/wp-content/themes/btgv3/mbawatch/single-bschool-info-view.php on line 165
$
% Employed After Graduation:
Application Essay Prompts