Mendoza College of Business (University of Notre Dame)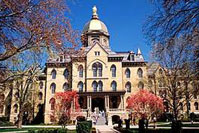 204 Mendoza College of Business
Notre Dame, IN 46556
-

people following this school
-

people applying to this school
Full-Time MBA Rankings
Bloomberg Businessweek: 25
News World Report: 33
Financial Times: 77
Part-Time MBA Rankings
News World Report:
Executive MBA Rankings
Financial Times:
Online MBA Rankings
Financial Times:
News World Report:
Full-Time MBA Employments
Median Base Salary: $105,000
Median Salary with Bonus: $125,000
% Employed After Graduation: 86.0
Application Essay Prompts
"Essay Option #1 At Mendoza, we encourage our students, faculty, and staff to Ask More of Business. We embrace a threefold commitment to achieve this goal: Greater Good Effective Organizations Individual Integrity Tell us about an experience in which you lived out one of those values. (Max two double-spaced pages) Essay Option #2 The University of Notre Dame was founded in 1842, by Father Edward Sorin, C.S.C, with a mission to become one of the most powerful means for doing good in this country. In 1879, Father Sorins vision for Notre Dame appeared to be at a sudden, abrupt end. A massive fire destroyed the building that housed virtually the entire University. Instead of giving up, Father Sorin interpreted the fire as a sign that he had dreamed too small, and decided to rebuild, bigger and better than ever. That Main Building still stands today, topped by the gleaming Golden Dome, not only as an iconic campus building, but as an ongoing symbol of perseverance and vision. Tell us the story of a time in your own life or career when you had to overcome an obstacle, start over, or rebuild. (Max two double-spaced pages) Essay Option #3 We seek students who will become active, engaged members of our student body. Tell us about how you were able to make an impact at your alma mater, in your workplace, or in your community. (Max two double-spaced pages)"
Part-Time MBA Employments
Median Base Salary:
Warning: number_format() expects parameter 1 to be double, string given in /vol/www/www.beatthegmat.com/blog/source/wp-content/themes/btgv3/mbawatch/single-bschool-info-view.php on line 137
$
% Employed After Graduation:
Part-Time MBA Employments
Application Essay Prompts
Executive MBA Employments
Median Salary:
Warning: number_format() expects parameter 1 to be double, string given in /vol/www/www.beatthegmat.com/blog/source/wp-content/themes/btgv3/mbawatch/single-bschool-info-view.php on line 151
$
% Employed After Graduation:
Application Essay Prompts
Online MBA Employments
Median Salary:
Warning: number_format() expects parameter 1 to be double, string given in /vol/www/www.beatthegmat.com/blog/source/wp-content/themes/btgv3/mbawatch/single-bschool-info-view.php on line 165
$
% Employed After Graduation:
Application Essay Prompts