McDonough School of Business (Georgetown University)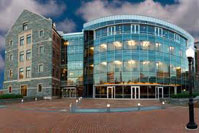 37th and O Streets N.W.
Washington D.C. 20057
-

people following this school
-

people applying to this school
Your Status for This School
You vs. Other Applicants
Average GMAT Score
Average GPA
Work Exp - Months
Average Age
Loading charts . . .
Applicant Nationalities
Individual Applicants
| User | Round | Status | GMAT | GPA | Age | Location | Gender | Major | Work Experience | Target Industry |
| --- | --- | --- | --- | --- | --- | --- | --- | --- | --- | --- |