London Business School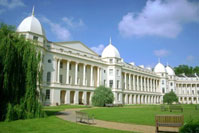 Regent's Park, London
NW1 4SA
United Kingdom
-

people following this school
-

people applying to this school
Full-Time MBA Rankings
Bloomberg Businessweek:
News World Report:
Financial Times: 4
Part-Time MBA Rankings
News World Report:
Executive MBA Rankings
Financial Times: 4
Online MBA Rankings
Financial Times:
News World Report:
Full-Time MBA Employments
Median Base Salary: $108,269
Median Salary with Bonus: $133,269
% Employed After Graduation: 94.0
Application Essay Prompts
"Essays are a vital part of your application and we recommend that you spend a significant amount of time in their preparation. The questions for our MBA programme are: What are your post-MBA goals and how will your prior experience and the London Business School programme contribute towards these? (500 words) Is there any other information you believe the Admissions Committee should know about you and your application to London Business School? (Optional) (500 words)"
Part-Time MBA Employments
Median Base Salary:
Warning: number_format() expects parameter 1 to be double, string given in /vol/www/www.beatthegmat.com/blog/source/wp-content/themes/btgv3/mbawatch/single-bschool-info-view.php on line 137
$
% Employed After Graduation:
Part-Time MBA Employments
Application Essay Prompts
Executive MBA Employments
Median Salary: $110,115
% Employed After Graduation: 96.0
Application Essay Prompts
"How will the Executive MBA help you achieve your career objectives? (500 word maximum) You may want to start by discussing your current career situation to set the context, and clarify how the MBA education will enable you to achieve your immediate goals. You can then naturally move on to your future goals sequentially. Give more detail in the roles you plan immediately post-MBA and the several years following; this time frame should comprise the bulk of your goals discussion. These details should include position, company, likely responsibilities and scope of accountability, perhaps adding in some interesting points such as possible challenges or trends youll encounter. Longer-term goals need less detail, but they still should present a clear direction. In describing your goals at any given point, indicate why you are taking that step. In discussing how the EMBA will benefit you, be specific: identify what skills and knowledge you need, and how the program meets those needs. While the question asks about EMBA broadly, it would be great to refer to specific aspects of the LBS EMBA curriculum, structure and/or special features of the program, detailing how they will support you and your goals. Ideally, in presenting your goals, youll incorporate both of the qualities noted in the introduction above a sense of dynamism, vision; and a concrete, practical plan or dimension. Question 2: What was your response to a piece of feedback that you have received regarding an area of weakness? (500 words maximum) The adcom wants to see how frankly you portray the feedback and your own shortcoming, and how insightfully you contextualize your experience. Secondarily, its about change did you grow and change as a result of the feedback? This essay will be most compelling and engaging if written as a story. Start right in with the storys setting where, who, when (ideally make it recent enough so it shows that you handle serious responsibility and long ago enough so that you can show you responded seriously and improved as a result of the feedback). Then progress through the story, highlighting not just what you and the other party said and did, but also your thinking as the story progresses. Finally, give a short example of how you have applied this feedback (or your learning from this feedback experience) subsequently in other words, how you grew. Question 3: Please choose ONE essay from the following two options: (500 words maximum If you could choose any three people who have ever lived to join you in your ideal Executive MBA study group, who would they be and why? OR How would you contribute to the London Business School community as an alumnus? If the first two questions are rooted in real-world, concrete experience, this question urges you to play a little and use your imagination, wit, creativity, and possibly broader passions in answering. Which should you answer? Both are equally good; it depends on you. The first invites you to dream a bit and convey your broader passions. The second invites you to express these broader passions, as well as experiences and personal qualities, in the practical context of projected real contributions. So, back to the choice: If one of these questions naturally strikes a chord with you, engages you, and you have an idea for it that you like, its a good indication to use that question. Go with it! BUT, do apply some objective, focused analysis as well. Ensure that your content truly illuminates you in some new and fresh way relevant to the application, and use detail and example to make your essay credible and vivid. Another approach is strategic. If your imagination isnt tickled by these questions, instead analyze and plan. What relevant and interesting aspects of your profile arent yet portrayed (or portrayed adequately) in the application? Identify one or two such points, and work back from that to find suitable topics for one of the two questions. "
Online MBA Employments
Median Salary:
Warning: number_format() expects parameter 1 to be double, string given in /vol/www/www.beatthegmat.com/blog/source/wp-content/themes/btgv3/mbawatch/single-bschool-info-view.php on line 165
$
% Employed After Graduation:
Application Essay Prompts
ARTICLES