Lally School (Rensselaer Polytechnic Institute)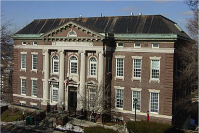 110 8th Street
Troy, NY 12180
-

people following this school
-

people applying to this school
2013/2014 ESSAY QUESTIONS
The Lally School will train you for leadership and strategic decision-making roles. In these roles you will encounter situations that will require ethical choices. Describe an ethical dilemma that you have experienced in your career and how you resolved it. What did you learn from this experience?
Given our emphasis on innovation and entrepreneurship in both technological entrepreneurship and finance, students who succeed at Lally tend to be creative individuals who are fascinated with new products and new business ideas and are especially good at identifying new opportunities. Please send us an example of your creative thinking. This could be, but should in no way be limited to, one of the following:

An idea for a new business
An advertising campaign
A drawing of a new product idea
A physical prototype of a new product or concept (use your creativity to amaze us with your idea!)
A creative application of a new technology or new business idea to a pressing world problem; for example, an environmental problem or a problem relating to quality of life in a third world country

The only restrictions are that it cannot be larger than 2 cubic feet (1 foot x 1 foot x 2 feet), no heavier than 50 pounds, and if you upload (or send) a written document, no longer than 1,500 words. If you submit something other than a written work, you must also submit a description of not more than 500 words explaining your submission.