Kelley School of Business (Indiana University)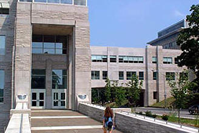 1275 E. Tenth Street
Bloomington, IN 47405
-

people following this school
-

people applying to this school
Your Status for This School
Full-Time MBA Rankings
Bloomberg Businessweek: 26
News World Report: 27
Financial Times: 57
Part-Time MBA Rankings
News World Report: 11
Executive MBA Rankings
Financial Times:
Online MBA Rankings
Financial Times: 7
News World Report: 3
Full-Time MBA Employments
Median Base Salary: $106,000
Median Salary with Bonus: $130,000
% Employed After Graduation: 94.0
Application Essay Prompts
"Your essays will give us an idea of your personality, perspectives, and opinions and will let us know how closely your professional objectives match the objectives of the MBA program. We encourage you to be honest, informative, creative, and concise. Required: 1. Discuss your immediate post-MBA professional goals. How will your professional experience, when combined with a Kelley MBA degree, allow you to achieve these goals? Should the short-term goals you have identified not materialize, what alternate career paths might you consider? (500 words) 2. Respond to one of the following short essay prompts. (300 words) a. My greatest memory is... b. I'm most afraid of... c. My greatest challenge has been... d. I'm most proud of... 3. Share a brief fact about yourself that your classmates would find interesting, surprising, or noteworthy. (25 words) Is there anything else that you think we should know as we evaluate your application? If you believe your credentials and essays represent you fairly, you shouldn't feel obligated to answer this question. (300 words)"
Part-Time MBA Employments
Median Base Salary: $102,000
% Employed After Graduation: 84.0
Application Essay Prompts
"The essay should be sent via email to mbaindy@iupui.edu. Identify in the body of the e-mail your full name and birth date. Please ignore the Personal Statement section on the University Application web site. Your essay should address the following: What you do now day-to-day in your job. (Please keep in mind that we have your resume.) What you would like to be doing in 2 to 3 years time. (To cite three possibilities: Gain a promotion? Land a job in a new organization? Change function? [for example, you are in Engineering and would like to go into Finance]) What would your next job look like? If you dont know what your goals are, thats fine. Please note that you dont know and would like to use the Career Advising and Professional Development Program to clarify this.) How can you use the program to get where you want to go? What unique perspective can you bring to classroom discussion? (e.g. born in Somalia? Spent a year in Chile? Speak three languages? Been involved in a corporate reorganization? Helped launch a new product? Had to hold the line in costs in a small company?) If you do not currently reside within commuting distance of Indianapolis, briefly explain future plans that will allow you to participate in the Kelley Evening MBA program. (Note: the Kelley Evening MBA program is designed for working professionals. Prospective full-time students should consider applying to the Kelley Full-Time MBA program in Bloomington.) Please limit your essay to a maximum of 500 words (the equivalent of 2 pages, double spaced with a 12 point font)."
Executive MBA Employments
Median Salary:
Warning: number_format() expects parameter 1 to be double, string given in /vol/www/www.beatthegmat.com/blog/source/wp-content/themes/btgv3/mbawatch/single-bschool-info-view.php on line 136
$
% Employed After Graduation:
Application Essay Prompts
Online MBA Employments
Median Salary: $133,273
% Employed After Graduation: 85.0
Application Essay Prompts
"Tell us more about what you want to achieve. Your 500-word personal statement should include: Academic goals Career objectives Reasons for applying Why you are a strong candidate for this degree"
ARTICLES