Jones Graduate School of Business (Rice University)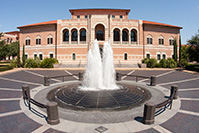 6100 Main Street, MS 531
Houston, TX 77005
-

people following this school
-

people applying to this school
2014/2015 ESSAY QUESTIONS
Required - Describe your short-term and long-term career goals, and how the MBA will help you achieve those goals. Include in your discussion: Why is now the appropriate time to pursue an MBA, and why are you interested in obtaining a Rice MBA? (Maximum 750 words)
Required - Choose one of the following three essays (Maximum 500 words):
What is the best mistake you have ever made? Include its impact on you and how it altered your view of the world.
Describe a defining moment or event that changed your life.
What historical event would you like to have witnessed or participated in, and why?
Optional video supplement - You have the opportunity to upload an optional 90 second video supplement for your application through LikeLive and answer the following prompt: Visualize yourself joining the Rice MBA Class of 2017. Share something unique about yourself that you want your fellow Rice MBA classmates to know. Follow the link in the application to access the video submission website.
Optional - You may use this essay to discuss anything else that you would like the Admissions Committee to know about you, or to provide information or clarification on one or more aspects of your application. (Maximum 750 words)
Required for re-applicants ONLY - Think about the time that has elapsed since you last applied to the Jones School. What actions have you taken to improve your candidacy? (Maximum 750 words)