HKUST Business School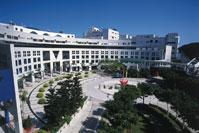 Clear Water Bay
Kowloon, Hong Kong
-

people following this school
-

people applying to this school
Full-Time MBA Rankings
Bloomberg Businessweek:
News World Report:
Financial Times: 14
Part-Time MBA Rankings
News World Report:
Executive MBA Rankings
Financial Times:
Online MBA Rankings
Financial Times:
News World Report:
Full-Time MBA Employments
Median Base Salary: $82,234
Median Salary with Bonus: $133,334
% Employed After Graduation: 88.0
Application Essay Prompts
"The HKUST application has made few changes in the past few years, slightly modifying the phrasing of their two required essays of 500 words each. My tips are below in blue. Essays: Essay 1. The HKUST MBA mission is to inspire and transform individuals to be future business leaders for Asia and the world. We embrace diversity, and are looking for ambitious and open-minded candidates with a passion to contribute. It is the first day of orientation. Please introduce yourself to your classmates, highlighting what drives you in your personal and professional life. (500 words maximum) Each graduating class is comprised of 120 students from 28 countries. Since HKUST strives for diversity throughout this small group, each applicant must demonstrate a unique perspective and experiences. If your professional background is in a heavily represented group – IT or finance for example, then I highly recommend highlighting not only your most exceptional professional experience in this essay but also the personal qualities, extracurricular involvement and values that differentiate you. When in your professional or personal life have you demonstrated an open-mind and made a difference? These activities will prove your potential at HKUST. Essay 2. Tell us about your post-MBA goals and based on that, why is the HKUST MBA the ideal program for you and how do you plan to engage and enrich our community? (500 words) This is a traditional goals essay with only slightly modified phrasing from previous years. The new element lies in the second part of the question's engagement and enrichment of the HKUST community. While in previous years applicants could spend all 500 words talking about how they will benefit from the HKUST education to reach their goals, the admissions office is making it clear that they expect to hear how you will enhance the education of your peers as well. What aspects of the program will you be able to contribute to most and how will your fellow classmates benefit?"
Part-Time MBA Employments
Median Base Salary:
Warning: number_format() expects parameter 1 to be double, string given in /vol/www/www.beatthegmat.com/blog/source/wp-content/themes/btgv3/mbawatch/single-bschool-info-view.php on line 137
$
% Employed After Graduation:
Part-Time MBA Employments
Application Essay Prompts
Executive MBA Employments
Median Salary:
Warning: number_format() expects parameter 1 to be double, string given in /vol/www/www.beatthegmat.com/blog/source/wp-content/themes/btgv3/mbawatch/single-bschool-info-view.php on line 151
$
% Employed After Graduation:
Application Essay Prompts
Online MBA Employments
Median Salary:
Warning: number_format() expects parameter 1 to be double, string given in /vol/www/www.beatthegmat.com/blog/source/wp-content/themes/btgv3/mbawatch/single-bschool-info-view.php on line 165
$
% Employed After Graduation:
Application Essay Prompts