Harvard Business School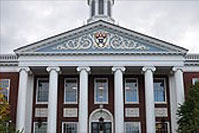 Soldiers Field
Boston, MA 02163
-

people following this school
-

people applying to this school
2015/2016 ESSAY QUESTIONS
It's the first day of class at HBS. You are in Aldrich Hall meeting your "section." This is the group of 90 classmates who will become your close companions in the first-year MBA classroom. Our signature case method participant-based learning model ensures that you will get to know each other very well. The bonds you collectively create throughout this shared experience will be lasting.

Introduce yourself.

Note: Should you enroll at HBS, there will be an opportunity for you to share this with them.

We suggest you view this video before beginning to write.
Essay Tips - Articles
by Clear Admit on May 22, 2015
by Admissionado on May 23, 2015
by Stacy Blackman on June 3, 2015