Georgia Southern University College of Business Administration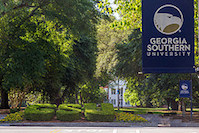 P.O. Box 8050
Statesboro, GA 30460
-

people following this school
-

people applying to this school
Full-Time MBA Rankings
Bloomberg Businessweek:
News World Report:
Financial Times:
Part-Time MBA Rankings
News World Report:
Executive MBA Rankings
Financial Times:
Online MBA Rankings
Financial Times:
News World Report: 47
Full-Time MBA Employments
Median Base Salary: $63,550
Median Salary with Bonus: $87,429
% Employed After Graduation: 51.0
Application Essay Prompts
"personal statements Your MBA experience should challenge your intellectual ability and broaden your perspective. In addition to the business expertise you will gain from the Georgia Southern University MBA curriculum, you and your classmates will be expected to contribute, through a variety of collaborative experiences, to your own MBA experience. What unique qualities and/or strengths do you possess that will enhance the MBA experience of your classmates? What do you bring to the table? Are you a gifted mathematician or a great writer? Are you an innovative problem solver or a natural leader? Do you have an entrepreneurial spirit or a passion for green business? What do you want the admissions committee to know about you? (750 words or less) Please feel free to share any additional information, regarding your academic and/or professional record, that you think the admissions committee should know. (350 words or less)"
Part-Time MBA Employments
Median Base Salary:
Warning: number_format() expects parameter 1 to be double, string given in /vol/www/www.beatthegmat.com/blog/source/wp-content/themes/btgv3/mbawatch/single-bschool-info-view.php on line 137
$
% Employed After Graduation:
Part-Time MBA Employments
Application Essay Prompts
Executive MBA Employments
Median Salary:
Warning: number_format() expects parameter 1 to be double, string given in /vol/www/www.beatthegmat.com/blog/source/wp-content/themes/btgv3/mbawatch/single-bschool-info-view.php on line 151
$
% Employed After Graduation:
Application Essay Prompts
Online MBA Employments
Median Salary: $87,429
% Employed After Graduation: 100.0
Application Essay Prompts
personal statement