Fisher College of Business (The Ohio State University)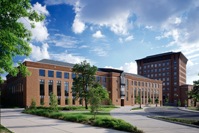 2100 Neil Avenue
Columbus, OH 43210
-

people following this school
-

people applying to this school
2014/2015 ESSAY QUESTIONS
Shaping Your Vision: Every year Fisher College's Full-Time MBA program admits a select group of talented professionals with demonstrated potential to become successful business leaders in an increasingly competitive, global environment. Why do you want to earn an MBA degree in general and a Fisher College MBA in particular? How will Fisher specifically assist you in achieving your individual potential? As part of your response, include a brief summary of your professional accomplishments to date. If you have not held a full-time job or are still in college, let us know about your leadership accomplishments in a school, internship, or extracurricular context.
Discovering You: As a Fisher College MBA student, you get the best of both worlds: the up-close and personal feel of a small program combined with the resources and opportunities offered by a major research university. As an individual participant, you will play a key role in shaping our culture. Consequently, we would like to learn more about who you are and the unique characteristics you will contribute to the Fisher College community. Provide an honest description of yourself outside your professional context, stressing the personal characteristics you believe to be your strengths and weaknesses, along with the factors that have most influenced your development to date.
(Optional) Video Essay: Optional for applicants who wish to be considered for any available merit-based funding opportunities. In the online application you will be provided a link and step by step instructions to complete the video essay.

Question: "You can never pay back, but you can always pay forward." - Wayne Woodrow "Woody" Hayes. When you "Pay it forward" you do something good for someone in response to a good deed that was done for you. You do not need to repay the person who did something good for you, but rather do something good for someone else. If you were to be admitted to The Fisher College of Business and receive funding support from the university, what would you do to "pay it forward?