ESSEC Business School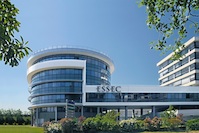 Avenue Bernard Hirsch BP 50105
95021 Cergy-Pontoise France
-

people following this school
-

people applying to this school
2013/2014 ESSAY QUESTIONS
What are your two most substantial accomplishments and why do you view them as such?
What matters most to you and why are you passionate about it?
Describe a time when you orchestrated a positive change within a group or organization.
Describe an occasion when you were surprised by feedback that you received. What was this feedback and why did it provoke such a reaction?
How will your personal background, values, work ethic, and/or experiences contribute to the culture of ESSEC?
What are your short-term, medium-term, and long-term post-MBA career goals? How will the Global MBA program help you to achieve those goals?