D'Amore-McKim School of Business (Northeastern University)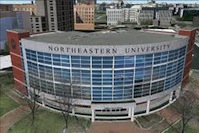 350 Dodge Hall, 360 Huntington Avenue
Boston, MA 02115
-

people following this school
-

people applying to this school
Your Status for This School
Full-Time MBA Rankings
Bloomberg Businessweek:
News World Report: 59
Financial Times:
Part-Time MBA Rankings
News World Report: 71
Executive MBA Rankings
Financial Times:
Online MBA Rankings
Financial Times: 13
News World Report: 42
Full-Time MBA Employments
Median Base Salary: $79,500
Median Salary with Bonus: $84,500
% Employed After Graduation: 91.0
Application Essay Prompts
Please include your name and essay question on each page of your personal statement. It should be presented in 12-point size font, double-spaced. Discuss both your short-term and long-term professional goals. Describe what challenges you may face as well as how your previous experiences will help contribute to your future success. Your answer should highlight why you have decided to pursue your MBA at this point in your career and how you feel a Northeastern degree will help you achieve success. Upload your personal statement as a PDF or Word document into your online application.
Part-Time MBA Employments
Median Base Salary: $75,000
% Employed After Graduation: 96.0
Application Essay Prompts
Personal statement
Executive MBA Employments
Median Salary:
Warning: number_format() expects parameter 1 to be double, string given in /vol/www/www.beatthegmat.com/blog/source/wp-content/themes/btgv3/mbawatch/single-bschool-info-view.php on line 136
$
% Employed After Graduation:
Application Essay Prompts
Online MBA Employments
Median Salary: $134,467
% Employed After Graduation: 61.0
Application Essay Prompts
Application essay
ARTICLES