Carey Business School (Johns Hopkins University)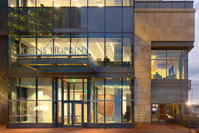 100 International Drive
Baltimore, MD 21202
-

people following this school
-

people applying to this school
Full-Time MBA Rankings
Bloomberg Businessweek:
News World Report:
Financial Times:
Part-Time MBA Rankings
News World Report:
Executive MBA Rankings
Financial Times:
Online MBA Rankings
Financial Times:
News World Report:
Full-Time MBA Employments
Median Base Salary: $91,667
Median Salary with Bonus: $102,881
% Employed After Graduation: 85.7
Application Essay Prompts
Essay Questions What are your career aspirations and why is a graduate business degree the next step to achieving those goals? Specifically, why have you chosen a Johns Hopkins program to do this? (500 words). Please answer essay option 2A or essay option 2B. A) Describe your most significant success or failure. Please include the situation, attributions related to it and what you learned from it. (500 words) B) Describe a time in which your ethics were challenged. How did you address the situation and what did you learn? (500 words) Why are you a strong candidate for the Johns Hopkins Carey Business School program? What makes the Carey degree a good fit for you? How will you make a unique contribution to the Carey community? (300 words) Optional Essay: Is there any additional information that you think we should know as we evaluate your application? You may use this essay to provide any additional information you believe would strengthen your application.
Part-Time MBA Employments
Median Base Salary:
Warning: number_format() expects parameter 1 to be double, string given in /vol/www/www.beatthegmat.com/blog/source/wp-content/themes/btgv3/mbawatch/single-bschool-info-view.php on line 137
$
% Employed After Graduation:
Part-Time MBA Employments
Application Essay Prompts
Executive MBA Employments
Median Salary:
Warning: number_format() expects parameter 1 to be double, string given in /vol/www/www.beatthegmat.com/blog/source/wp-content/themes/btgv3/mbawatch/single-bschool-info-view.php on line 151
$
% Employed After Graduation:
Application Essay Prompts
Online MBA Employments
Median Salary:
Warning: number_format() expects parameter 1 to be double, string given in /vol/www/www.beatthegmat.com/blog/source/wp-content/themes/btgv3/mbawatch/single-bschool-info-view.php on line 165
$
% Employed After Graduation:
Application Essay Prompts