Atkinson School of Management (Willamette University)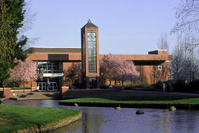 900 State Street
Salem, OR 97301
-

people following this school
-

people applying to this school
Full-Time MBA Rankings
Bloomberg Businessweek: 76
News World Report:
Financial Times:
Part-Time MBA Rankings
News World Report:
Executive MBA Rankings
Financial Times:
Online MBA Rankings
Financial Times: 2
News World Report:
Full-Time MBA Employments
Median Base Salary: $65,000
Median Salary with Bonus: $82,000
% Employed After Graduation: 82.0
Application Essay Prompts
"Your essays are a very important part of your application. Your essays will help us learn more about you, your professional aspirations, and your reasons for applying to Willamette University's MBA program. Directions: Type an essay in response to each of the two essay topics below on a separate piece of paper. Be sure to respond fully and completely to each essay topic. Proofread your essays carefully before you submit your application. Remember, when the admission committee reviews your essays they believe they are reviewing the best quality of work you can provide. You are also invited to provide additional information you would like the admission committee to consider in reviewing your academic record, professional experiences, and personal accomplishments. *Essay Questions 1. What experiences and influences significantly shaped who you are today? (your response should be approximately 300 to 500 words in length) 2. The Willamette MBA program and employers of MBAs value many traits beyond your resume, test scores, transcripts, experience and knowledge. These traits include integrity, motivation, professional judgment, work ethic, time management, initiative, interpersonal skills, communication skills, leadership, decision making, teamwork, creativity and others. Identify 5 of these traits that are most important to you and discuss how you apply each of them in your professional or educational endeavors. (Length should be approximately 300 to 500 words.)"
Part-Time MBA Employments
Median Base Salary:
Warning: number_format() expects parameter 1 to be double, string given in /vol/www/www.beatthegmat.com/blog/source/wp-content/themes/btgv3/mbawatch/single-bschool-info-view.php on line 137
$
% Employed After Graduation:
Part-Time MBA Employments
Application Essay Prompts
Executive MBA Employments
Median Salary:
Warning: number_format() expects parameter 1 to be double, string given in /vol/www/www.beatthegmat.com/blog/source/wp-content/themes/btgv3/mbawatch/single-bschool-info-view.php on line 151
$
% Employed After Graduation:
Application Essay Prompts
Online MBA Employments
Median Salary: $23,000
% Employed After Graduation:
Application Essay Prompts