Learn more about Kaplan GMAT:
Find a practice test near you or online in Kaplan's Live Online environment.
Register today!

Realign your Future with Kaplan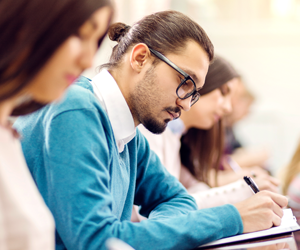 A higher score flat out means a better business school. Kaplan's helped prospective students get higher GMAT scores for over 40 years. Trust us to help you get the score you need—and into the school you want—or your money back.
All Kaplan GMAT prep courses include:
Official Test Day Experience
Only Kaplan lets you take a simulated practice GMAT at the actual testing facility under the same conditions as the real exam. It's the best way to see how you would really perform on Test Day.
Higher Score Guarantee
No risk prep. If you don't hit your target score or aren't feeling test-ready, you have the option to retake our course or get your money back. With our higher score guarantee*, you have complete peace of mind.
Resources
Nine full-length computer practice tests, 160-plus hours of instruction from expert teachers, and over 5,000 practice questions.