Are You Behind? Your Round 1 Application Plan: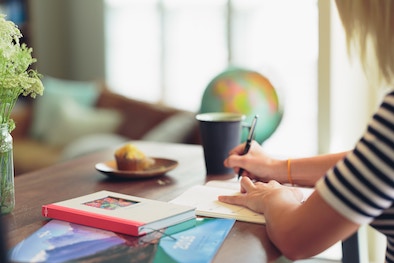 If you're planning to apply to an MBA program round 1, it's go-time! Many schools have already released essay topics and deadlines, so hopefully you already have a strong application strategy and personal brand that you're leveraging to start thinking about how to approach one of the most critical and time-intensive aspects of the applications: the essays. If you've done all of the upfront work and are hitting the ground running right now, bravo! If you're just starting, below is a suggested timeline for how to best use the next 13 weeks before the first deadlines hit.
Your 13 Week MBA Application Plan
For the weeks below, we listed what we would expect our clients to have completed or accomplished by the end of that week, give or take. Please note that by this point we expect that you have a GMAT score or firm test date already so that you can focus more on the actual application. If not, you can assume that GMAT prep is concurrent to the items below.
A few key notes: we recommend at least five drafts of your resume (this small document is critical to your application), and at least 10 drafts of your first essay set. For each draft, we recommend getting feedback from a variety of different people – alumni of that school, co-workers, a consultant, and/or friends and family who know how the process works. You won't know the background of the person reviewing your application on the other side, so it's best to get multiple perspectives. For context, many of our clients complete 10-20 drafts of each essay set, and normally we have 5-8 rounds of editing on a resume. The number of drafts doesn't correlate with English skills, time spent or overall intelligence. Iteration makes for a better product so we view drafting as part of the process of getting to success. Many people think better when they can react to something on paper, so getting pen to paper helps spur the creative process. Below we laid-out what this might look like at a minimum, but of course, it varies by person.
For the week of,
June 10

Mitigation strategy for any perceived weaknesses intact and being executed upon
Well-defined personal brand and/or story that has been vetted by at least three other people for being personal, differentiating, interesting, and visionary
Schools researched and selected; presentations signed-up for and/or school visits completed or scheduled
June 17
Resume complete after at least five drafts that have been reviewed and commented upon by someone other than yourself and your family (co-workers, friends, former classmates, consultant, etc)
Drafts for School 1's essays complete and being reviewed by someone else for feedback on content, readability, and how well they address the key dimensions that the adcoms are looking for
Conversations scheduled with your MBA alumni friends to learn more detail about their experiences and programs so you have more context for your essays
June 24
Recommender packets prepared and meetings scheduled to explain the process and get them energized about your story and goals
Second and third drafts completed for School 1's essays with reviews by friends, family, co-workers and/or a consultant
July 1
First draft of School 2's essays completed and being reviewed
Fourth and fifth drafts completed for School 1's essays and being reviewed
July 8
First draft of School 3's essays completed and being reviewed
Continue drafting School's 1 and 2 (typically 10+ versions of essay set number 1 is normal; and we normally see fewer iterations for subsequent schools)
Check-in with recommenders to make sure they have a plan of attack
July 15
Second and third drafts of School 3's essays completed and being reviewed
Continue drafting School's 1 and 2
July 22
First draft of School 4's essays completed and being reviewed
Finalize School 1's essays
Continue drafting on School's 2 and 3
July 29
Second and third drafts of School 4's essays completed and being reviewed
Continue drafting on School's 2 and 3
August 5
Finalize School 2's essays
Continue drafting School's 3 and 4
Start the application form for School 1 (completing the mini-questions embedded, determining how to leverage all of the space to maximize the information you share etc)
August 12
Continue drafting School's 3 and 4
Send your completed School 1 application to someone to review in entirety and provide feedback (optimally someone who knows about the process like an MBA alum etc).
August 19
Finalize School 3's essays
Continue drafting School 4

Send your completed applications to alums or other reviewers for final checks and integrate feedback accordingly
Check-in with recommenders
August 26
Finalize School 4's essays
Complete the remaining application forms for Schools 2-4
September 2
Buffer week in the event that things slipped, an essay had you stuck, or you decided to change course (which happens to a fair number of people)
September 9
First Week of Deadlines!
If you need a turbo charge, we have ~10 spots left for round 1 right now and are happy to talk about how we could help. Please request a consultation.
More from Vantage Point MBA:
A Quick Comparison of the Top MBA Programs
Which School is Right for You? A Tool to Help You Decide
If you liked this article, let Vantage Point know by clicking Like.