Ready to submit your MBA Applications? We suggest you pause and make sure you tick these boxes!: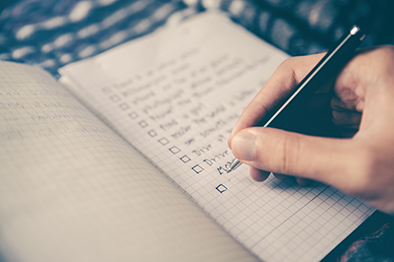 At ARINGO MBA Admissions Consulting, we speak to many candidates who have written their applications on their own, and are ready to push the button and submit their MBA applications. These candidates often contact us, nervously, a few days before the deadlines asking us for tips on how they can improve their chances of future acceptance into a top-ranked MBA programs.
Here is a checklist that will help you decide.
Is your personal story clear?
MBA Admissions would like to understand who you are as a person, why you made certain choices, and see all of this written in a well-articulated and interesting manner. If you don't feel you have done this, well back to the drawing board!
Remember that your personal story is what will make you stand out from the crowd, so you want to make sure that whoever reads your application understands who you are, where you come from, what has formed you so far and what matters to you most.
You should also make sure that your presentation of yourself is consistent throughout all the MBA application components, so look through all parts in order to search for any inconsistencies.
Does your professional career shine?
Diversity if key to MBA programs. Nevertheless, they usually look for a successful business past. Describe why you chose your first role, and how you progressed from there to your other positions. Don't assume that schools will understand choices you have made.
3.       Are your reasons for needing an MBA clear and well-articulated?
Many applicants know well why they need an MBA but it can be hard to articulate in writing the reasons for this move. Make sure you explain your reasoning well, no matter if your need is based on a desire to change industries, wanting to be promoted, learn business skills or something else.
Keep in mind that you should often address this topic even if the school does not ask this question directly. Even if your MBA reasoning is to find a lucrative job at the end of the course, you will need to explain to admissions why an MBA will help you attain your career goal.
4.       Have you emphasized why you are applying specifically to the target school?
Admissions committee members see many generic applications and are often able to tell which applicants have sent multiple schools the same exact essays. Therefore, you will increase your chances of standing out by adding school specifics wherever you can. You could mention something about what you see as the strength of that specific MBA program, unique classes they offer or similar, in order to show that you have done your research and that they indeed are your top choice.
5.       Are your letters of recommendation strong enough?
Many applicants overlook the letters of recommendation part, thinking they only play a minor role, but this is not so! MBA letters of recommendation play a crucial part, and strong letters of recommendation can really increase your chances of admission. Therefore, you should choose your recommenders carefully and also make sure they know your story, so that their letters will corroborate your essays and your application as a whole.
6.       Are your essays strong enough?
Many applicants have a hard time judging themselves, as it can be difficult to be objective enough about your own work, especially if you have spent a lot of time working on it. That's why we recommend having a number of professional reviewers reading your essays in order to get another opinion or guidelines. Choose someone who is not very familiar with your work for reading the essays in order to understand if your work experience is easy to understand even for someone outside of your industry.
And as mentioned before, make sure your essays are consistent with the rest of your application.
7.       Is your GMAT score strong enough?
There is no one grade fits all. Only you know your true GMAT potential. Only you know how well you are doing in the simulations vs. the real test. If you don't think you have hit the score you can, it might be a good idea to consider retaking the GMAT or to consider the GRE as an alternative. If you have some time on your hands there are many great GMAT and GRE prep alternatives that can help you get that score up, and a higher score will definitely increase your chances of admission.
ARINGO has helped 100s of candidates like you get into top MBA Programs. Visit us on www.ARINGO.com for further details.
If you liked this article, let Aringo know by clicking Like.