How To Shine in the Wharton Team Based Discussion: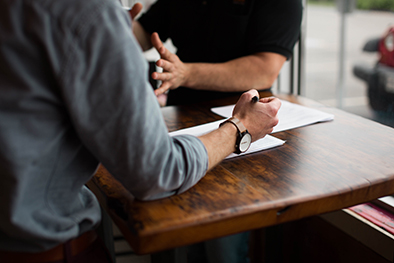 Over the last few weeks, many of our round 1 clients were invited to interview at Wharton through its famed Team Based Discussion (TBD). For those of you working on your Wharton round 2 applications, it's never too early to start thinking about the interview process. Below are some of the best practices that we prep our clients with and that they said worked out well during their TBDs this year.
For this activity, it's hard to truly prepare beyond a) thinking through what your idea is for the retreat they've asked you to propose; and b) coming to the table confident and ready to engage with others. However, there are some key things that you can keep in mind when approaching this activity that can help you succeed.
1) Be engaging with your team: smile and be the first one to introduce yourself, introduce others, ask where people are from etc. The admissions team is going to be looking to see how well you can insert yourself into the group because business school requires that you be able to get in there and start interacting immediately with people you just met. Of course, be yourself. Be a real person. The infamous "used car salesman" type tends to be a little off-putting. Instead, treat these interactions like you would if you were meeting your new co-workers on day one of a new job. You guys have a lot in common – assume these are you soon-to-be new best friends (which could be the case!)
2) Seek consensus and other opinions throughout the team discussion: try to bring people together by asking thoughtful questions that drive the conversation forward. I'll make something up for illustration: you could be the person who helps kick-off the discussion with something like, "to approach this, I was thinking that we could first do x then do y. What do you all think? Could that be a way to frame this or get us started?" Try not to be the person who immediately fires off "what to do" or "how it's going to be / should be" without asking for feedback from the group. You want to clearly demonstrate that you know how to engage a team (which means ensuring that each person feels connected to and a part of the process – not just following the loudest voice).
3) Hold the pen if you can: I am not the most extroverted person, so my trick in these situations is that I always volunteer to be the writer. If you're the writer, then you are forced to help synthesize people's thoughts and everyone has to talk to you. It's the best role to demonstrate your ability to engage others because you'll naturally be asking for clarification and consensus as you chart out the group's ideas.
4) Be humble: don't run over people or strike them down (…and be cognizant of this if you've been accused of it in the past). Take every comment as relevant, no matter how you feel about it. The key here is to demonstrate that you are respectful of others' viewpoints and that you realize that perhaps your ideas (no matter how awesome you think they are) are not necessarily the best ones. Show your listening skills – sometimes listening can demonstrate much more leadership and maturity than having the most to say.
As always, reach out to us if you want help!
If you liked this article, let Vantage Point know by clicking Like.