When to Stop Studying for the GMAT: 5 Signs: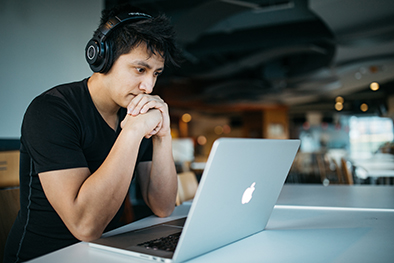 Continual study for the GMAT can be a slippery slope. After all, if you've allotted the recommended three or more months to practice, isn't it hard to finally pull the breaks? How do you know when it's time to officially stop studying for this exam? Is halting cold turkey after so much time and effort about as impossible as halting a 100-mile-an-hour train?
Rest assured it is possible. While you are urged to know the structure and format of the GMAT frontwards and backwards to obtain a high score, it's not suggested to continue studying this exam ad infinitum. There comes a certain and definite point when it is finally time to put away the practice tests. Take a look at the following tips, suggestions and signs regarding when to finally pull the plug on your GMAT prep so that you don't burn out.
Your MBA application is in the mail.
Look, if you've already sent out your MBA applications to your top choice and safety schools with a recent certified GMAT score, isn't that as good a time as any to put the study materials down? At a certain point, you've got to have faith in the package you're presenting them with, including not just your test scores but essay and overall application. Once you've mailed everything off, take a breath and trust the information and image you're presenting to them is your very best. You've done all the work up to this point, so let the admissions committee do their work. Give your brain a break and put down the Quant review book.
You've reached your target score.
This might seen obvious for many GMAT students, but again, it's easy to get lost in the continual mindset of wanting to do better and better. Even when some people reach their target or goal score, they might feel impelled to study more and take the exam again to surpass those expectations. Again, learn when it's time to stop. You came, you saw, you got above a 720 – or whatever your goal was – now go home.
You've read all The Economists you can possibly get your hands on.
Since The Economist is one of the most encouraged outside reading magazines where you can find GMAT-related topics and vocabulary, you know it's time to throw in the towel when you're no longer able to find a copy or issue you haven't actually read. Trust that your supplementary materials helped you along your path and pick up a good Stephen King novel instead.
The morning of the exam.
If it's the morning of the exam, you don't need to try to cram with last-minute Quant problems or Verbal sentence correction samples. Give your mind a rest and allow it to clear before walking in through those front doors to show off all your hard work. When the day of the exam arrives, it's time to stop studying and start implementing all that you've honed and learned.
The other parts of your application are being neglected.
Yes, your GMAT score is imperative to your overall application, but what about your admissions essay? Have you gathered the best recommendations from your top choice of recommenders? Has your resume been updated and does it meet industry standards? These other elements of your MBA admissions package can't suffer because you're so focused on a high test score. Remember, business schools aren't interested in just numbers, they want diverse and accomplished individuals that will contribute to and enhance the culture of the university. Be sure not to spend all your time taking CAT diagnostics and focus your time and attention on the other admissions requirements, as well. Holistic applications always make better impressions.
Studying thoroughly for this exam takes time, but it shouldn't take up all your time. Plan ahead and plan accordingly, knowing when it's time to close the practice exercises. Get a firm grasp on this material, but don't let the material get a firm grasp on you. Trust in your hard work and prep time. Hopefully, these five major signs will help you signal when to stop.
About Manhattan Review:
Manhattan Review is a multi-national boutique test prep firm. Founded in 1999 by Dr. Joern Meissner, an internationally renowned business school professor, Manhattan Review is the oldest test prep company of its kind in New York City. Manhattan Review operates in many cities in the United States and select major cities around the world, including Hyderabad, Bangalore, Warangal and Visakhapatnam. For more information, please visit our webpage.
If you liked this article, let Manhattan Review know by clicking Like.