The Chicago Booth MBA/MPP Dual-Degree Experience:
Today's the day the University of Chicago Booth School of Business was slated to send out interview invitations to Round 2 applicants, but posts to MBA LiveWire suggest that some applicants began receiving them earlier this week. Have you gotten one? If you're still waiting, why not distract yourself by learning a little more about the school from a current student?
Today's Fridays from the Frontline column comes to us from Yuli Almozlino, a student in the dual-degree program Booth offers with the University of Chicago Harris School of Public Policy. As the school's website describes, the program "allows students who want to make an impact on public policy issues to gain leadership and management skills." Students in the three-year program graduate with two degrees, an MBA and a master's in public policy (MPP) and emerge prepared for a range of leadership roles in government, NGOs, and related policy and consulting organizations.
In the post that follows, Almozlino talks about the many ways in which the two programs complement one another, sharing details about how coursework at Harris supports and builds upon coursework at Booth and vice versa. Most students spend their first year taking classes at Harris, their second year taking classes at Booth, and their third year dividing their time between both schools. To learn more about the dual-degree MBA/MPP program at Chicago Booth, click here.
Our thanks to Almozlino and Chicago Booth for allowing us to share her perspective with the Clear Admit audience. And best of luck to anyone hoping for an interview invite!
The following post has been republished in its entirety from its original source, "The Booth Experience," Chicago Booth's student blog.
The Chicago Booth MBA/MPP Dual-Degree Experience
By Yuli Almozlino.
I'm often asked which school I prefer: Booth or Harris. My answer is usually elusive, narrowly avoiding clichés about apples and oranges. Well, it's the combination of both degrees that has been so powerful. My experience as a dual-degree student has been cohesive and uniquely enriching, drawing on assets at each school. In particular, the educational fit and community between the schools has shaped my experience.
In my first year at Harris, I worked part time as a research assistant at the University of Chicago Crime Lab under Professor Jens Ludwig. In the wake of the Laquan McDonald shooting, we were thinking about gun violence and local policing, considering data-driven or algorithmic approaches to crime prevention. This question was largely driven from the perspective of the policy maker, focusing on community outcomes as a metric.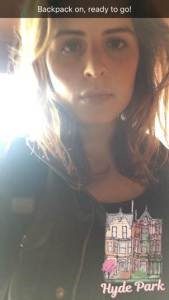 Almozlino snapchatting her way across UChicago campus between the Booth School of Business and the Harris School of Public Policy
The following year, as a student in Professor Canice Pendergast's class on HR strategy at Booth, I began thinking about the question from the perspective of the City as an employer, considering the trade-off between risk and incentives and the role of technology. My prior knowledge from Harris allowed me a deeper understanding of the challenge as considered at Booth, including its complexities and potential ways to make a lasting impact. This is exactly the type of rigorous education I wanted at the University of Chicago.
Moreover, in class this year, Professor Guy Rolnik discussed cases of firms hanging their business model on successful lobbying efforts and influence over reputation in media. With these examples, I was a better teacher assistant for Harris' course on Analytical Politics, reviewing lessons of diffuse versus concentrated interests to a new group of policy students. The educational fit between the two schools has enhanced my ability to strategize in order to solve problems that I care about, as well as provided me an opportunity to become a leader.
Separated only by Midway Plaisance, the two schools have a deep exchange, both intellectually and socially. From a Booth conference that spotlights Harris' expertise in municipal bond financing to a Harris policy lab attracting the enrollment of Boothies to consult an international aid organization—ideas and people travel between the two schools. I'm proud of the contributions dual-degree students such as myself have had in facilitating this exchange and building a social impact community at Booth.
In my first course at Booth, Professor Chad Syverson described how to identify complementarities: when assets are more valued by those who already own complements. The two schools complement one another and, as a result, I value my education more than I could have in any one school. The MBA/MPP dual-degree program at the University of Chicago has been the experience of a lifetime, more than I could have hoped.
If you liked this article, let Clear Admit know by clicking Like.