How to Beat Overlapping Sets GMAT Problems: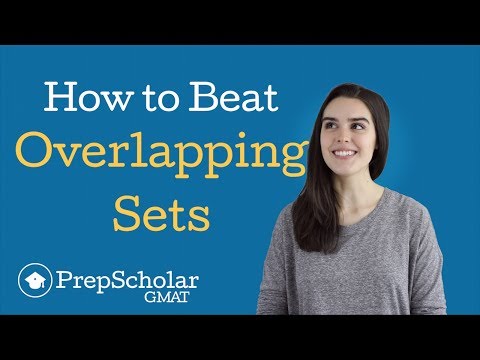 Overlapping sets make for particularly hard GMAT math questions. While they technically fall into the category of arithmetic—a type of math most people feel comfortable with—the complexity and presentation of overlapping sets problems throw many test takers for a loop.
So how can test takers make sense of all of the complicated information in these questions? And how can we get overlapping sets GMAT problems right every time? In the new video "How to Beat Overlapping Sets GMAT Problems," we discuss the number one strategy to conquer these deceptively difficult GMAT questions.
We start off by defining overlapping sets GMAT problems so you can recognize them on test day: they are word problems that deal with one large group that is being evaluated for multiple traits. This in essence breaks our larger group into many smaller groups with different combinations of traits.
We then delve onto our key strategy for overlapping sets GMAT problems: making a diagram. This allows us to
organize information from the problem.
clarify relationships between our smaller groups.
build equations we can then use to solve.
On overlapping sets GMAT problems where our larger group is being evaluated for two traits, we use a specific type of diagram called a "double matrix", which we explain how to create on your scratch paper. We also use a real overlapping sets GMAT question to illustrate how to set up our double matrix diagram and then use it to solve. Finally, we talk about how to set up a diagram for the really hard GMAT math questions in which our overlapping sets involve evaluating for three or more traits.
Watch the video to see how it's done!
To stay updated on our latest GMAT videos, you can subscribe to our new PrepScholar GMAT YouTube channel—we'll have three new free videos every month.
Happy GMAT studies!
The post How to Beat Overlapping Sets GMAT Problems appeared first on Online GMAT Prep Blog by PrepScholar.
If you liked this article, let PrepScholar GMAT know by clicking Like.